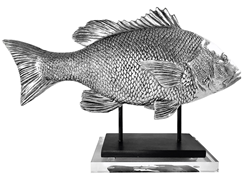 Make Life Beautiful!
(PRWEB) October 11, 2017
When you walk into Clint Eagar's gallery in Grayton Beach, you might wonder how many artists have their work hanging in the gallery due to the varied techniques and mediums that range from sculptures, 3D canvases with detailed glass, modern and abstract art, home décor and acrylic landscapes. However, the answer is only one. Eagar's eclectic works incorporate a broad spectrum, and are about as diverse as his upbringing.
Clint was raised and educated in South Africa, but moved around a lot with his family. His father worked in the auto industry, which afforded them the luxury of getting away from the political unrest of the time. Clint first came to the states in the 60s when his father worked for American Motors in Michigan, but they grew tired of the cold Michigan winters, and moved back to South Africa. In 1973 they moved to Australia for a year. Clint states that he attended 14 different schools as a child. "My father was not the kind of guy that said we're going to move to the town next door, we're going to move to the country next door."
After public school, Clint attended the Johannesburg School of Art where he received formal training in sculpture, painting, mixed media and drawing. In 1981, after graduating, he moved to the states, in part to escape the escalating violence in South Africa. He settled in Dallas, Texas where there was a support system of other South Africans who had fled the country. There he enrolled in the Advertising and Design program at the Fashion and Arts Institute.
Clint became involved with several businesses after college, including the gift industry where he designed different types of consumer goods. "My art work went from flat to 3D and then went through multiple mediums". For some, going from painting to manufacturing would seem to be a great leap. Not for Clint. "To me design is design," he says. "I can design any type of product. " Sunglasses, handbags, cars, and watches are just a few of the things he can design. He even designed his own ultra modern house, sketched it, and was involved in designing and building every single inch of the house. "I look at things in a very open and universal view. Everywhere I look I'm always thinking why did they do it that way?"
At his gallery you can see the influence of design and manufacturing in the variety of pillows, table clothes, book ends, wall plaques, candle holders and other home décor available as his art is once again brought to 3D. "The gallery is just a face of showing a little bit of the capabilities of what I can achieve..... It's really just the tip of the iceberg."
Clint enjoys the variety of his art. He loves to be challenged and take on new projects that use a style or medium he hasn't mastered yet. It allows him to explore new ways to express himself. "I like to feel like I'm always evolving," Yet, he doesn't just do it for himself. He always keeps in mind the buyers and pays attention to trends. "I just want my art work to change people's lives," stated Clint. "I always feel very humbled, and very happy that I can have a piece of my art be privileged enough to have it in someone's home, that they want to look at it on a day to day basis. To me that is the pinnacle of what I am trying to achieve."
After all the moving he has done, he's happy to call this place home. "We are very happy to be in the Emerald Coast area, and part of the art community, I hope my art makes an impact in the area. In the most positive way."
See original artworks and lifestyle collections at Clint Eagar's Art Gallery & Studio located at 57B Uptown Grayton Circle, Santa Rosa Beach, FL. Or visit: http://www.ClintEagarDesign.com.
Contact Information
Clint Eagar Design
57B Uptown Grayton Circle
Santa Rosa Beach, FL 32459
Tel: 224-715-2252
http://www.ClintEagarDesign.com
Email: info(at)ClintEagarDesign(dot)com