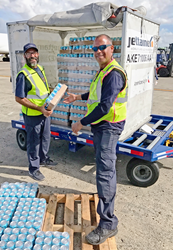 When the American Red Cross asked CW4K to help. We immediately said, yes. It was the right thing to.
Sussex, WI (PRWEB) October 09, 2017
CannedWater4Kids (CW4K), and American Airlines have answered the call put out by the American Red Cross to urgently send clean, safe, drinking water to Puerto Rico to aid in Hurricane Maria disaster relief efforts. Over 29,000 pounds of clean, safe drinking water in 12oz cans (close to the 30,000 lb. American Airlines weight limit) is on its way.
It was Wednesday, September 20, 2017 that Hurricane Maria, a powerful Category 4 hurricane, with 150 mph winds, landed with a direct hit on Puerto Rico crushing the entire island and drenching it with several feet of rain. Today, several weeks later, the Department of Defense says that virtually 95 percent of the island remains without power, and approximately 55 percent of the population is still without safe drinking water. There's limited food and cell service, and dozens of remote villages remain completely cut off from everything. The New York Times stated that Maria destroyed 80 percent of Puerto Rico's agricultural industry.
The impact of Hurricane Maria will be felt across Puerto Rico for a long time. Fortunately, companies like CW4K, and American Airlines are providing humanitarian efforts that are helping to ease the pain. This delivery of safe canned drinking water will be a refreshing sight.
"It is hard to imagine being without clean, safe drinking water," said Greg Stromberg, CannedWater4Kids water charity Founder & CEO. "When the American Red Cross asked for our help. We immediately said, yes. It was the right thing to."
"We are grateful to American Airlines, who stepped up and is providing for the delivery of the canned drinking water," added Stromberg.
"In times like these, we are humbled to find ourselves in the position to make a difference," said Jim Butler, American Airlines senior vice president of international and cargo. "By using our aircraft to provide life-saving materials, food and water to the island, we are doing everything we can to help the people regain a sense of comfort that was taken from them by Hurricane Maria."
"We are so grateful to CannedWater4Kids and American Airlines for their support of our operations through this in-kind donation," said Don Herring, Red Cross chief development officer. "Generous donations from our partners are essential to our ability to fulfill the mission of the Red Cross."
CW4K is no stranger to disaster relief. Whether it was the earthquakes in Japan and Haiti, Hurricane Sandy in New Jersey in 2012, help for the lead-contaminated municipal water supply in Flint, MI, or the recent Hurricane Harvey and Irma in Texas and Florida, the 501c3 charity was there with clean, safe drinking water packaged in 12-ounce aluminum beverage cans. Now, post Hurricane Maria in Puerto Rico, the support continues. Learn more about CW4K by visiting http://www.cannedwater4kids.org.
About CannedWater4Kids
CannedWater4Kids is a 501c3 charity based in Sussex, WI. The organization's purpose is to ensure all children have access to clean, safe drinking water. CW4K funds its initiatives with cash donations, grants and through the sale of their premium drinking water in aluminum cans and bottles. 95 cents of every dollar collected goes to support clean water programs. Projects include assisting the University of Wisconsin – Milwaukee's Engineers Without Borders in bringing sustainable water purification solutions to the highlands of Guatemala, and support for well/water tank and Bio Sand Filter projects in Zambia, Kenya and Tanzania, Africa. Recent disaster and hurricane –relief efforts include the sending of truckloads of canned drinking water to Michigan, Texas, Florida and Puerto Rico. To learn more, visit http://www.cannedwater4kids.org.
About American Airlines Group
American Airlines and American Eagle offer an average of nearly 6,700 flights per day to nearly 350 destinations in more than 50 countries. American has hubs in Charlotte, Chicago, Dallas/Fort Worth, Los Angeles, Miami, New York, Philadelphia, Phoenix, and Washington, D.C. American is a founding member of the oneworld® alliance, whose members serve more than 1,000 destinations with about 14,250 daily flights to over 150 countries. Shares of American Airlines Group Inc. trade on Nasdaq under the ticker symbol AAL. In 2015, its stock joined the S&P 500 index. Connect with American on Twitter @AmericanAir and at Facebook.com/AmericanAirlines.