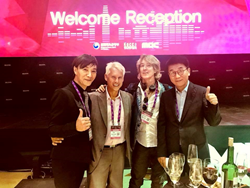 Los Angeles, CA (PRWEB) October 09, 2017
Infuse Creative CEO, 2016 Global Peace Song winner, technologist, and former Warner Bros. recording artist Gregory Markel spoke about the Future of Music at S. Korea's MuCon music conference Sept. 26-28, attended by music industry, artists and media professionals from Asia and the world over.
Gregory was a guest of the Korean Ministry of Culture and 'KOCCA.' The Korea Creative Content Agency (KOCCA) is South Korea's leading government agency that oversees the advancement of Korean creative content, both domestically and internationally. KOCCA covers a wide range of Korea's creative industries, including gaming, animation, character licensing, music, fashion, and broadcasting. KOCCA actively advances these industries via production support, marketing and promotion, global expansion abroad, human capital development, and cultural technology implementation.
The title of Gregory's keynote MuCon talk, which followed radio personality and METal founder Ken Rutkowski's opening keynote, was 'Future Music: How to compete in artistry, industry, marketing and technology,' and included advice obtained exclusively for the MuCon attendee's by Gregory and included; Rusty Anderson, (Paul McCartney's lead guitarist for 12 years), Jay Samit, Vice Chairman Deloitte Digital an author of the best selling book 'Disrupt You,' John Jascz, 10-time Grammy winner, Dick Williams, former VP Promotion, Capital/EMI America and MTSU professor, Fabrice Gabriel, Partner & Chief Engineer, Slate Digital, Richard Gibbs, film/TV composer and 'Woodshed Recording' (Coldplay, U2, John Mayer), owner, Chris Boardman, Emmy winning, Oscar nominated film/TV composer, arranger, and University of Miami music professor, Cindy Alexander, Blue Elan Recording artist, Scott Page, former Pink Floyd Saxophonist and Ignited.Live founder, Bobby Owsinski, recording engineer and author of 'Music 4.1,' Will Wells, Musician, Songwriter, Producer, Imagine Dragons, Pentatonix, 'Hamilton,' Futurist Robert Tercek, author of 'Vaporized,' and Neil Ormandy, multi-platinum songwriter, Jame's Arthur's 'Say you won't let go,' and founder, Silo Music.
Gregory's presentation deck from his MuCon, Korea 2017 talk, which was hosted by Korean guitar legend and N.EX.T member Se-Hwang Kim, can be viewed and downloaded here.
About Gregory Markel
Gregory Markel is a former Warner Bros. Records multi-album recording artist and winner of the 2016 Global Peace Song Award in the Rock/Pop category. Gregory's songs can be found in film and major brand projects including the RedBull "Hacking Creativity" project for which Gregory co-wrote the song "Rise Above." Gregory also owns and manages digital agency 'Infuse Creative,' recording studio 11:11, and occasionally produces TV and film projects, including the recent "Hickok," starring Luke Hemsworth.