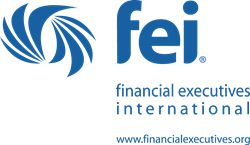 Success largely depends on how effective a business is run and how nimble its internal functions remain. FEI strives to provide continuing education that our attendees are unlikely to gain elsewhere. This year's CFRI is no exception.
Morristown, NJ (PRWEB) October 10, 2017
Two-day conference:

Designed to help financial professionals adapt to the changing industry landscape—from learning about new technologies digitizing financial reporting to navigating new accounting standards
Includes keynotes by Aetna Chairman and CEO Mark Bertolini, Johnson & Johnson Chairman and CEO Alex Gorsky, and U.S. SEC Chief Accountant Wesley Bricker
Financial Executives International (FEI), the association of choice for CFOs and other senior-level finance executives, will host the 36th Annual Current Financial Reporting Issues (CFRI) Conference on November 13-14, 2017 at the New York Marriott Marquis. This year, CFRI takes a three-pronged approach to professional education by combining comprehensive tracks on disruptive industry influences; the transformation of financial organizations; and, technical challenges and opportunities. Presenters include leaders, chief accountants and controllers from notable corporations, the Financial Accounting Standard Board (FASB), the U.S. Securities and Exchange Commission (SEC), and the Public Company Accounting Oversight Board (PCAOB).
Andrej Suskavcevic, CAE, President and CEO of FEI and Financial Executives Research Foundation (FERF) said, "Maintaining an organization's or business' relevance and industry leadership position doesn't always rely on the products or services it sells. Today, perhaps more than ever before, success largely depends on how effective a business is run and how nimble, yet accurate, its internal functions remain—including the financial operations. FEI strives to provide continuing education that our attendees are unlikely to gain elsewhere. This year's CFRI agenda is no exception as it showcases more than 40 industry experts equipped to share insights on how to succeed in our increasingly competitive marketplace."
"Companies are facing constant change coming from business drivers and shifting consumer focus—not to mention regulatory changes. We, as finance professionals, must be prepared to help our companies be ready for the future and the disruption they are facing. To that end, CFRI 2017 will be a really special event designed to aid in that preparation," added Conference Co-Chair Sharon Virag, Vice President, Controller and CAO, Aetna.
Keynote speakers Mark Bertolini, Aetna Chairman and CEO; Wesley Bricker, U.S. SEC Chief Accountant; and, Alex Gorsky, Johnson & Johnson Chairman and CEO will be joined by a collection of industry leaders across many related disciplines such as: Frank Brod, Microsoft's Corporate VP, Finance and Administration and CAO; Jeanette Franzel, Public Company Accounting Oversight Board (PCAOB) Board Member; Catherine Hoovel, McDonald's Corporation's CAO; Marsha Hunt, Financial Accounting Standards Board (FASB) Board Member; Mark Kronforst, U.S. SEC's Chief Accountant; and, Roger O'Donnell, KPMG's Partner, Audit.
 
The event's agenda is worth up to 17 CPE credits, and includes a diverse list of sessions and panels. Highlights from the complete agenda (available here) include:
The Disruptors Panel: How Organizational Leaders Can Survive: From the emergence of streaming video to self-driving cars, new technologies and business models are disrupting how we do business today and changing existing practices and customer interactions. Uncover what emerging trends are going to affect the way we do business moving forward, and explore the potential impact on the finance organization.
The Role of the FASB in Accounting Change Disruption: Accounting change starts and ends with the FASB – learn from FASB Board members as they discuss current and future initiatives, recently released standards, exposure drafts, and updates of Emerging Issues Task Force activities. They'll address how the Board is providing support to preparers in an effort to ease unnecessary disruption as they adopt some of the biggest accounting standards updates in history.
Regulating Disruptions: Discussion with the Deputies: SEC Deputy Chief Accountants speak on current financial reporting issues, including a focus on key accounting changes and their own perspectives on the state of adoption of the new standards.
Disrupting Accounting Practice: Lessons Learned from the Leases Standard: Adoption requires investment, controls and process change. With the proliferation of new standards, how are organizations dealing with these overarching changes on top of all the other new standards? Focus on lessons learned from ASC 842 implementation from preparers who have taken substantive steps to implement the new lease accounting standard.
Robots and AI in the Financial Suite: Advanced technology, data analytics, artificial intelligence and robotic process automation have been embraced throughout organizations. Learn how such innovations can benefit the senior-level financial professional's day-to-day responsibilities.
FX – Do You Really Understand the Impact on Your Organization?: Multinationals are affected by changes in foreign currency. How can you accurately and, in real-time, understand the impact of a weakened or strengthened U.S. dollar? Learn about foreign currency volatility causes and best practices for disclosing related impacts and risks.
Disrupting Audit: A Battle for Relevance: Demands on auditors are increasing as firms respond to dynamic environments comprised of increased regulatory oversight and evolving clientele. Hear first-hand from industry practitioners how to remain relevant along with an insightful description of what a future auditor looks like.
Financial Reporting Priorities from the SEC's CorpFin Team: The SEC's Division of Corporation Finance seeks to ensure that investors are provided with information material to investment decisions, and regularly monitors public company filings. This panel will address recent notable trends including segment reporting, disclosures for the adoption of new standards (SAB 74s), non-GAAP financial reporting, and related best practices.
Visit the CFRI website for registration details, and join the Twitter conversation at #FEICFRI2017.
Conference attendees will also have an opportunity to connect with more than 25 exhibitors registered to date. These well-regarded exhibitors are onsite to introduce various products and services ranging from enterprise performance management systems to wealth management services. Many also represent CFRI's sponsors, including Diamond Sponsor KPMG; Platinum Sponsors Crowe Horwath, Deloitte, Duff & Phelps, EY, Greenlight Technologies, Microsoft, SmartPros A Kaplan Company, Workiva; and, Gold Sponsors Avalara, Grant Thornton, Merrill Corporation, PWC, Stout, Visual Lease, and Wolters Kluwer | CCH Tagetik.
About FEI
Financial Executives International (FEI) is the leading advocate for the views of corporate financial management. Its more than 10,000 members hold policy-making positions as chief financial officers, treasurers and controllers at companies from every major industry. FEI enhances member professional development through peer networking, career management services, conferences, research and publications. Members participate in the activities of more than 65 Chapters in the U.S. and a Chapter in Japan. FEI is located in Morristown, NJ, and Washington, D.C. Visit http://www.financialexecutives.org for more information.