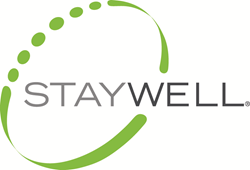 The enhanced portfolio will allow us to strengthen our existing diabetes and weight management solutions, as well as enter new categories, like women's health, for the first time.
YARDLEY, PA (PRWEB) October 10, 2017
StayWell, a health solutions company, today announced that it has acquired Silicon Valley-based MedHelp's health engagement platform, industry-leading applications and talent to expand its mobile health portfolio and support its corporate growth strategy. The acquisition will extend StayWell's reach to MedHelp's 3 million users, while offering more robust solutions to existing customers, during all stages of their health.
"MedHelp's innovative platform, top healthcare apps and expert team will propel StayWell's strategic company growth as we continue to expand our mobile health solutions to both new and existing markets," said Nicole Latimer, CEO of StayWell. "The enhanced portfolio will allow us to strengthen our existing diabetes and weight management solutions, as well as enter new categories, like women's health, for the first time."
MedHelp brings with it a number of award-winning applications including Sugar Sense, one of the top-ranked diabetes apps, and My Diet Diary, a calorie tracking app, that StayWell will incorporate into its existing suite of diabetes management and weight loss solutions — an area of focus for the company for more than 20 years through its employer well-being programs and partnerships with leading diabetes organizations.
My Cycles and I'm Expecting, MedHelp's ovulation and pregnancy apps, signify StayWell's initial entry into the women's health category as part of a broader company strategy. With these technologies, StayWell will empower, support and improve the health of the traditionally-underserved female population before, during and after pregnancy.
"While females represent 51 percent of the population, there are very few comprehensive health solutions companies focusing on women's health," said Hans Hage, senior vice president of product and innovation for StayWell. "With MedHelp's fertility and pregnancy apps, paired with StayWell's well-being solutions and patient education, we're providing innovative health engagement tailored specifically to women's unique needs."
Sugar Sense, My Cycles, I'm Expecting and My Diet Diary are currently available on the App Store and on Google Play. In the future, StayWell will enhance and supplement these apps as part of its comprehensive strategy. The financial terms of the deal were not disclosed. For more information on StayWell's new mobile offerings, or to request a demo, visit http://www.staywell.com.
About StayWell
StayWell is a health solutions company that uses the science of behavior change to help people live happier, healthier lives. StayWell brings decades of experience working across the health care industry to design solutions for improving individual and organizational health outcomes, managing the health of targeted populations, and creating brand engagement for employers and health care organizations. StayWell programs have received numerous top industry honors, including the C. Everett Koop National Health Award and the Web Health Award for health engagement programs. StayWell also has received URAC and NCQA accreditation for several of its programs. StayWell is majority-owned by Healthcare Services & Solutions, LLC, a wholly owned subsidiary of Merck & Co., Inc., Kenilworth, NJ, USA ("Merck"). The company is headquartered in Yardley, PA, and also has a major location in St. Paul, MN. To learn more, visit http://www.staywell.com.
About Merck
For more than a century, Merck, a leading global biopharmaceutical company known as MSD outside of the United States and Canada, has been inventing for life, bringing forward medicines and vaccines for many of the world's most challenging diseases. Through our prescription medicines, vaccines, biologic therapies and animal health products, we work with customers and operate in more than 140 countries to deliver innovative health solutions. We also demonstrate our commitment to increasing access to health care through far-reaching policies, programs and partnerships. Today, Merck continues to be at the forefront of research to advance the prevention and treatment of diseases that threaten people and communities around the world - including cancer, cardio-metabolic diseases, emerging animal diseases, Alzheimer's disease and infectious diseases including HIV and Ebola. For more information, visit http://www.merck.com and connect with us on Twitter, Facebook, YouTube and LinkedIn.
Forward-Looking Statement of Merck & Co., Inc., Kenilworth, N.J., USA
This news release of The StayWell Company, a subsidiary of Merck & Co., Inc., Kenilworth, N.J., USA (the "company") includes "forward-looking statements" within the meaning of the safe harbor provisions of the U.S. Private Securities Litigation Reform Act of 1995. These statements are based upon the current beliefs and expectations of the company's management and are subject to significant risks and uncertainties. If underlying assumptions prove inaccurate or risks or uncertainties materialize, actual results may differ materially from those set forth in the forward-looking statements.
Risks and uncertainties include but are not limited to, general industry conditions and competition; general economic factors, including interest rate and currency exchange rate fluctuations; the impact of pharmaceutical industry regulation and health care legislation in the United States and internationally; global trends toward health care cost containment; technological advances, new products and patents attained by competitors; challenges inherent in new product development, including obtaining regulatory approval; the company's ability to accurately predict future market conditions; manufacturing difficulties or delays; financial instability of international economies and sovereign risk; dependence on the effectiveness of the company's patents and other protections for innovative products; and the exposure to litigation, including patent litigation, and/or regulatory actions.
The company undertakes no obligation to publicly update any forward-looking statement, whether as a result of new information, future events or otherwise. Additional factors that could cause results to differ materially from those described in the forward-looking statements can be found in the company's 2016 Annual Report on Form 10-K and the company's other filings with the Securities and Exchange Commission (SEC) available at the SEC's Internet site (http://www.sec.gov).