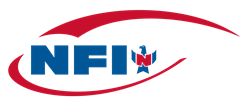 NFI is more than just a solution provider but a strategic supply chain partner.
Cherry Hill, N.J. (PRWEB) October 10, 2017
Leading supply chain solutions provider, NFI, has been named to Inbound Logistics Top 100 Truckers 2017 List. Published annually by the supply chain publication, the list provides readers a summary of the best truckers in the industry and their capabilities.
With more than 85 years in transportation and supply chain solutions, NFI continues to leverage its expertise to deliver comprehensive end-to-end solutions while growing capabilities. Giving flexibility for growth and the agility to make adjustments at a moment's notice, NFI's dedicated fleets provide customers the capacity needed to remain at the top of their industries. With refrigerated and dry solutions as well as specialized offerings such as flatbed, tanker, and conestogas, NFI has the capabilities to ensure product integrity and deliver world-class customer service. In addition to operational best practices, NFI applies top maintenance practices and safety performance standards to maximize safety and asset utilization.
Operating a fleet of more than 2,400 tractors and 8,300 trailers, NFI employs nearly 2,600 company drivers across North America. In the recent acquisition of California Cartage Company, NFI has grown its owner operators to almost 1,600 drivers and has increased its port and drayage capabilities. The combined capacity exceeds more than 4,000 power units today.
"NFI is more than just a solution provider but a strategic supply chain partner," said Todd Holt, President of NFI Transportation. "Our team advises and engineers the best solution to fit a customer's need with a unique approach to each challenge. NFI understands that no two companies are the same and that solutions must be tailored to help our customers succeed."
In addition to dedicated fleets, NFI offers services in brokerage, transportation management, intermodal, global logistics, port drayage, transloading and deconsolidation, customs examination, and commercial real estate. Servicing a variety of industries, NFI provides solutions for verticals such as food and beverage, consumer packaged goods, e-commerce, and retail.
Click here for a complete list of Inbound Logistics Top 100 Truckers.
About NFI -- NFI is a fully integrated North American supply chain solutions provider headquartered in Cherry Hill, N.J. Privately held by the Brown family since its inception in 1932, NFI generates approximately $2 billion in annual revenue and employs nearly 10,000 associates. NFI owns facilities globally and operates 41.5 million square feet of warehouse and distribution space. Its' dedicated and drayage fleet consists of over 2,400 tractors and 8,300 trailers, operated by more than 2,600 company drivers and 1,600 owner operators. Its business lines include dedicated transportation, warehousing, intermodal, brokerage, transportation management, global logistics, drayage, and commercial real estate services. For more information about NFI, visit http://www.nfiindustries.com or call 1-877-NFI-3777.
About Inbound Logistics -- Inbound Logistics the leading trade magazine targeted toward business logistics and supply chain managers. The magazine's editorial mission is to help companies of all sizes better manage corporate resources by speeding and reducing inventory and supporting infrastructure, and better matching demand signals to supply lines. More information is available at http://www.inboundlogistics.com.