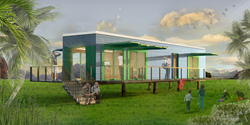 NDRH Program Homes are designed to be self-sustainable, capable of withstanding 200 mph. winds, and allow for site preparation with limited equipment and hand tools.
New York, NY (PRWEB) October 11, 2017
Based on the assumption that after a natural disaster, the infrastructure for the delivery of power, and potable water will be compromised, and delivery access constrained, the NDRH consists of a single family, self-sustaining modular house that can be assembled in multiple configurations depending on site conditions and end user requirements.
In an effort to facilitate relief efforts, modules are fabricated at our state of the art facilities in Europe and expeditiously delivered to impacted geographic areas. Intended to function either as a stand-alone dwelling or as a cluster to facilitate shared services, housing modules can be equipped with mechanical provisions including electrical generation by means of solar photovoltaic panels, solar hot water generation, and potable/grey water collection, storage, and treatment systems, allowing them to operate off the grid until reconnection becomes viable. 12'-7" x 32'-6" base units allow for pairing with 12'-7"x 16'-6'" bedroom modules to create 1, 2 and 3-bedroom homes. Engineered to meet or exceed the most stringent building codes including Florida's Miami-Dade and Broward counties, Skystone's NDRH homes are capable of withstanding subsequent weather events.