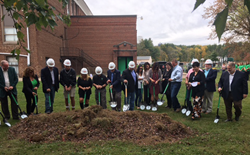 Columbus, OH (PRWEB) October 10, 2017
Gilbane Building Company and Clear Fork Valley Local School District came together to celebrate the official groundbreaking of Butler and Bellville Elementary Schools. Also in attendance at the groundbreaking ceremony were members of the project team and local community.
Gilbane is providing construction management services for Clear Fork Valley Local School District's two new elementary schools. Each school will be approximately 51,000 SF and house 387 students ranging from grades PK-5. Scope of work includes the abatement and demolition of the existing schools as well as construction of two new school buildings to accommodate the growing district. The project designed by Garmann Miller and Associates is set to wrap up in early 2020.
"Gilbane is proud to partner with Clear Fork and the OFCC on this exciting project that will provide students and staff with new school facilities and leave a lasting impression for generations to come," said Chad Stevers, Gilbane Building Company Senior Project Executive.
About Gilbane Building Company
Gilbane provides a full slate of construction and facilities-related services – from pre-construction planning and integrated consulting capabilities to comprehensive construction management, general contracting, design-build and facility management services – for clients across various markets. Founded in 1873 and still a privately held, family-owned company, Gilbane has more than 50 office locations around the world. For more information, visit http://www.gilbaneco.com. Gilbane has been providing construction management services in Ohio since 1959.