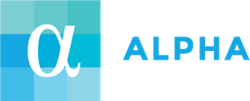 "You rarely find a company that has so quickly achieved success with the types of clients Alpha has. It's a testament to the technology – they've managed to take a three month research process and accelerate it to just 48 hours." - Dan Bratone, Chief Revenue Officer
New York, NY (PRWEB) October 12, 2017
Alpha, the product management and user insights platform enabling the largest companies in the world to be more customer-focused, today announced the appointment of Dan Bratone as Chief Revenue Officer and Elizabeth Quispe as Director of Client Success. Dan and Elizabeth bring years of experience to the company and will help clients drive a culture of experimentation and iteration throughout their organizations.
Alpha's platform enables the largest companies in the world to be more customer-focused, and run experiments to inform product development decisions. The company already works with over 25 Fortune 100 companies. Dan and Elizabeth will expand the sales and client success teams to better support clients.
Dan most recently served as the head of business development in North America for The Trade Desk, where for four years he led a team responsible for generating a majority of the company's revenue on the way to an IPO. "You rarely find a company that has so quickly achieved success with the types of clients Alpha has," Dan said. "Aetna, Experian, Verizon, and Prudential just to name a few. It's testament to the technology – they've managed to take a three month research process and accelerate it to just 48 hours."
Alpha's offering feels familiar to Dan. "In a lot of ways, it's similar to The Trade Desk," he said. "They're bringing an advanced capability – in this case, turning product questions into actionable user insights within 48 hours – and making it accessible to anyone in an organization. That's a recipe for success."
Elizabeth Quispe comes to Alpha from Smartling where she directed the client success team responsible for delivering better user experiences of the translation technology and service innovator. Her team will help clients get the most out of their investments in agile transformations and experimentation.
"Every company today knows that speed and rapid iteration cycles are a competitive advantage when it comes to innovation," Elizabeth said. "I'm excited to help Alpha's clients make high-impact decisions faster with less risk."
Alpha has doubled in size and revenue in 2017. Replacing manual processes with technology has been a key driver, but the team has been the foundation for the company's success. "We're excited to take it to the next level with Dan and Elizabeth." said Thor Ernstsson, Founder and CEO. "We understand how difficult it can be to build great products, especially in complex organizations, so we're getting the best product minds on board to help our clients move even faster and build products people love."
Changing the way global organizations operate isn't easy. To shift how the entire industry thinks about building digital products, Alpha has built a library of educational resources and content channels. Their expert interview series This is Product Management has more than 15,000 product teams subscribed to new episodes every Monday.
Alpha will also soon be launching a self-serve offering for growth-stage companies to better understand users or build new products.
For updates, visit http://alphahq.com/.
About Alpha
Founded in 2014, Alpha built the first end-to-end user insights platform for product teams. Alpha's clients are Fortune 100 brands including Prudential, Citi, PwC, Comcast, and Aetna providing detailed insights into what customers want, where the market is headed, and how their company can innovate successfully. Clients use Alpha to accelerate product experimentation from months to days, enabling brands to get the right product to market significantly faster. Alpha is headquartered in New York, NY and backed by Spider Capital, Crosslink Capital, Cendana Capital and others. Visit us at https://alphahq.com/.