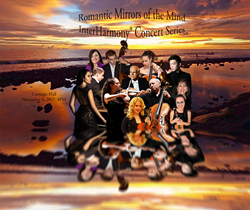 New York, NY (PRWEB) October 10, 2017
On Saturday, November 4th at 8PM master cellist and Founder of InterHarmony® International Music Festival Misha Quint will perform with brilliant colleagues and young artists in a gorgeous program of 18th and 19th century music to open the 5th Anniversary InterHarmony® Concert Series at Carnegie's Weill Recital Hall. 
The mirror of music is the best to show us who we are, and of that the Romantic to expose the depths of our psyche. Tickets are $40 and can be purchased by calling CarnegieCharge at 212-247-7800, at at http://www.carnegiehall.com, or at the box office on 57th and 7th Ave.
This evening will be a one of catharsis, shaped as a juggernaut from Lisztian terror, Schubert's delights, Massanet's anguish, Saint-Saën's waltzing pyrotechnics and Beethoven's restraint, concluding with the grandness of Brahms.
Liszt's second Ballade in b minor is a phantasmagorical tone poem, a showcase that tells of the gothic horror tale of Lenore, her midnight journey with the zombie of her slain fiancé to their wedding attended by ghouls. Victor Shlyakhtenko, piano
Schubert's Variation movement on a theme from the composer's most beloved song, The Trout, names this Piano Quintet. The music darts here and whither, until it gets angry at the fisherman that reels in his supper. Jeong Yoon Kim, violin, Amber Reed, viola, Caitlin McConnell, cello, Matthew Hicks, double bass, and Rexa Han, piano
The Italian opera composer Carlotta Ferrari's (d.1907) song Son figliuola d'una fata (I am the daughter of a fairy) contrasts Massanet's aria Pleurez mes yeux from Le Cid, a tragic plangent expression. We weep for our heroine's obligation to avenge her father killed by accident by her lover. Rachel Storlie, soprano, Delana Thomsen, piano
Saint-Saëns' Etude en Forme de Valse for violin is a one whose fireworks are the sparks that fly from the diamonds of ingenués at their fêtes. Beethoven's Romance in F Major expresses his love with greatest dignity. Jeong Yoon Kim, violin, Delana Thomsen, piano
The lyric contentment of the first movement of Brahms' A Major Violin Sonata reflects the composer's mood, written during a summer's vacation. Hosanna Carella, violin, Delana Thomsen, piano
Brahms' B Major Trio, written when the composer was twenty, overflows with ardor, through the four movements first of warmth to unbounded passion, Prussian impishness that explodes to paroxysms, a quiet intimacy of feelings of holiness, topped with an unsettled mystery in minor, a wandering one, ending with thunderbolts. Olga Kaler, violin, Misha Quint, cello, Owings, piano - What a way to conclude this whirlwind night of such myriad facets of The Romantic! http://www.interharmony.com