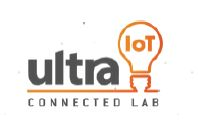 NEW YORK, NY (PRWEB) October 10, 2017
Ultra IoT Connected Lab, focused on creating and supporting solutions within the Internet of Things (IoT) and backed by nation wide mobile carrier Ultra Mobile, announced today that they have selected outdoor advertising startup Ozzy as their inaugural winner, as well as two runner ups, for their IoT Incubator program.
Ozzy is an innovative startup based out of Palo Alto that is building the first targeted out-of-home content network, and will be harnessing the incubator program to delivery and manage their IoT connectivity as effectively as possible. The startup is currently in stealth mode, and is looking to scale quickly through the program. Ozzy will receive:

$20,000 US Ultra Mobile connectivity (to be used within 12 months)
Customized portal (to be built during the 10 week program)
Mentorship
$4,000 towards travel
The runner ups to the program are BarnOwl, an AgTech company developing real-time monitoring solutions for farmers and ranchers to improve security and productivity; and a transportation company. These two companies will receive:

$10,000 US Ultra Mobile connectivity (to be used within 12 months)
Mentorship
$2,000 towards travel
Applications to the Lab's Incubator program spanned different industry verticals, and various stages of companies showcasing the breadth of IoT applications. The top three industries that applied were Transportation, which was 46% of the applicant pool, and Shipping and Environmental, which both landed at 13%.
"We are so thrilled to start our journey with the three companies as they become our partners, particularly as they show such diverse applications of IoT," said Sarah Neil, VP of Corporate Development at Ultra Mobile and General Manager of Ultra IoT Connected Lab. "We truly believe this program will keep us competitive as the rest of the industry is still wrestling with the opportunities around IoT. The Ultra Connected Lab and this incubator program ladders up to Ultra Mobile's mission of democratizing communication for global communities. IoT is such an exciting field, the types of innovation and thinking behind some of the applications is incredible. We're firm believers that IoT will change the world as we know it and make it a better place."
Powered by lean startup and customer-first mentalities, the Lab's 10-week incubator program will offer a Launchpad to build a bespoke portal to uniquely suit their requirements. The Lab's ultimate goal is that through increased collaboration, the team will identify barriers to entry within IoT, and generate disruptive solutions to facilitate innovation within industry at large.
For more information on Ultra IoT Connected Labs please visit ultramobileiot.com.
About Ultra Mobile:
Founded in 2011, Ultra Mobile is a non-contract nationwide mobile carrier, focusing on delivering innovative, cost effective mobile voice, text, and data services for people living in the United States who regularly call or text internationally. Its international services reach over 200 destinations, providing convenient and affordable solutions that connect people with their extended families, friends and colleagues living around the world. In an effort to further democratize communications for all, Ultra Mobile launched mobile wireless provider Mint SIM in 2016, a service for the savvy internet shopper who are looking for flexible options at incredible value. In 2015, Ultra Mobile was ranked #1 on the Inc. 500 as the fastest-growing private company in the United States. Ultra Mobile is co-headquartered in New York City and Southern California, with more than 150 employees based in USA, Europe, and Asia. The company offer customer support in English, Chinese, and Spanish. For more information, visit: http://www.ultramobile.com.