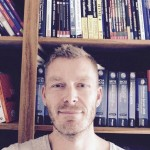 I look forward to utilizing my experience to help customers determine the best options with Liquidware solutions. --Bas van Kaam
Chicago, IL (PRWEB) October 10, 2017
Liquidware today announced Bas van Kaam has joined the company as Pre-Sales Director, Northern EMEA. van Kaam has authored a book on Citrix, is one of only 50 Citrix Technology Professionals worldwide and is active in technically oriented EUC communities across the globe. He also runs his own blog – http://www.basvankaam.com -- dedicated to end-user computing topics and knowledge sharing.
"With demand in EMEA increasingly growing, we are delighted to welcome Bas to the team," stated Chris Akerberg, President and COO, Liquidware. "While his focus will be on helping prospective customers to understand the value and benefit of Liquidware solutions, with his vast knowledge of this industry, he will also be a tech evangelist for our product portfolio."
Liquidware has customers across all vertical sectors in EMEA and is seeing a growing trend to move desktop workloads into the clouds with offerings from Amazon Workspaces, Citrix and VMware. As the leading, independent provider of workspace environment management solutions, Liquidware enables organizations to seamlessly migrate to next-generation desktops.
In 2016, Liquidware made a commitment to expand their Northern European operations with a strong local presence in the BeNeLux region. To that end, the company recruited and brought on board Morteza Esteki, former VP of Sales for RES. Since joining Liquidware, Esteki has spearheaded expansion of Liquidware's roster of active local channel partners. In addition, Esteki has fostered stronger relationships with the Dutch Citrix User Group and other local EUC community organizations.
Esteki actively recruited van Kaam to join the company, believing that the industry expert would be in his element with Liquidware, given his track record of mastering emerging desktop technologies.
"Joining Liquidware at this very interesting time in desktop evolution is certainly compelling," commented Bas van Kaam, Pre-Sales Director, Northern EMEA, Liquidware. "With so many options for customers to choose for their next generation desktop, I look forward to utilizing my experience to help customers determine the best options with Liquidware solutions."
Having worked as a technical SBC/VDI/EUC Pre-Sales Consultant, Management Consultant as well as most recently the CTO for the Detron ICT group, van Kaam has spoken at many industry events, including Citrix Synergy, Citrix User Groups and at the Expert-to-Expert Virtualization Conference (E2EVC). He will continue his community work and blogging at http://www.basvankaam.com. van Kaam adds to Liquidware's well-known EUC team that also includes Peter Von Oven, VMware vExpert and author of eight VMware EUC books.
About Liquidware
Liquidware™ provides industry leading, platform-agnostic desktop solutions for hybrid Windows desktop environments including Citrix® XenApp/XenDesktop, VMware® Horizon View, Amazon® WorkSpaces and physical Microsoft® Windows PCs. The company's Stratusphere UX solution delivers visibility into desktop environments to support assessment, design, monitoring and diagnostics (Health Checks). ProfileUnity provides just in time delivery of User Profiles, application and user rights management and context-aware policies. FlexApp delivers advanced Application Layering. The solutions are available in an extremely cost-effectively priced bundle called Liquidware Essentials. Liquidware products are Citrix Ready, VMware-certified, and are available through a global network of partners. Visit http://www.liquidware.com for further information.