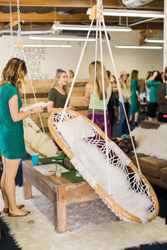 San Marcos, CA (PRWEB) October 11, 2017
According to Gensler's 2016 U.S. Workplace Survey, finding an optimal workplace design is a key driver to employee innovation. Examining a statistical link between the quality and make-up of the workplace and the level of motivation employees dedicate to their organization, the study found that office design creates an ecosystem of collaboration and creativity.
At Facebook headquarters, employees have the choice to tailor the height, layout and configuration of their own desks based on personal preference. Teams are given the option to craft whatever workspace best supports the project they are working on. This ability to create and control productivity directly influences motivation and performance.
With the connection between office design and business performance being both crucial and timely, ChicExecs acknowledges that creating company culture isn't just about decorations or keeping a consistent color scheme – it's about crafting a unique, empowering environment that reflects your company and team. Set up similar to a collaborative workspace, the ChicExecs headquarters includes swings, couches, TV sets to stay connected to client features on the media, brainstorming spaces, and a snack bar to boost concentration and performance.
Named by Entrepreneur as one of the best company cultures in America, ChicExecs is a one-stop shop for brands. With social media, influencers, retail strategy and public relations, the company is at the forefront of supporting modern businesses. Committed to staying connecting with clients, Hustle Humble by ChicExecs hosts bi-monthly networking events, incorporating their own office design into themed workshops.
Guiding exactly the sort of employees needed to deliver high performance, ChicExecs expresses unique company culture through an optimal office environment, leaving workers more motivated, creative and empowered.
Nikki Carlson and Kailynn Bowling founded ChicBlvd Inc. which is the parent company of three divisions including ChicBlvd Magazine, ChicExecs Brand Strategist Firm and ChicBuds. They bring more than 30 years of advertising, marketing and PR experience combined with 15 years of business management, retail and sales. ChicExecs launched in 2006 and quickly garnered over 200 clients and a network of 40,000 small businesses who benefit from their innovative new system that has generated features in countless well-known media outlets.
Creating an innovative approach to helping small-medium businesses receive retail strategy including retail orders, social media, and media coverage, ChicExecs is an "out of the box" PR and retail strategy company.
Jennifer A. Marca
Public Relations Account Coordinator
ChicExecs PR & Branding
820 Los Vallecitos Blvd. Ste A-C
San Marcos, CA 92069
(760) 429-6702