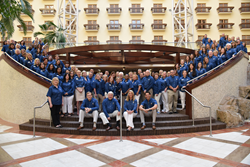 Vero Beach, FL (PRWEB) October 10, 2017
Harbor Retirement Associates (HRA), a regional senior living development and management company based in Vero Beach, will celebrate its 15-year anniversary throughout the month of October. The company milestone will be observed both at the corporate level and on the community level. HRA has grown to 27 communities in seven states with 9 more under construction.
"We're proud and excited to have reached this meaningful milestone," said Tim Smick, CEO of Harbor Retirement Associates. "Our success can be directly attributed to our tremendous passion for seniors along with our steadfast dedication to our company's core values of respect, attentiveness, integrity, stewardship and excellence. As we grow as an organization, we will continue to put a sincere emphasis on value-centered servant leadership."
HRA's founders and executives share decades of experience in senior housing management and development. The corporate team features recognized experts in development, operations, clinical care, finance, marketing, and human resources.
"Our continued vision for HRA is to apply our God-given talents and experience to the creation of senior living communities in which we, ourselves, would envision living," said Sarabeth Hanson, Chief Operating Officer of HRA. "We will adhere to this mission as we continue to grow and look toward the future."
HRA communities are found in 7 states nationwide. All HRA communities share similar features and standards of excellence. Each HRA community features include 24-hour staff, scheduled transportation daily, housekeeping service, concierge services and the exclusive Chef's Fare Dining Program with customized dining experiences in multiple venues. Each community also has HRA's signature Life Enrichment Program, designed to provide social, devotional, fitness and recreational opportunities that have a positive impact on residents.
For more information on Harbor Retirement Associates, visit http://www.hraseniorliving.com
About Harbor Retirement Associates
Harbor Retirement Associates ("HRA") is a regional senior living development and management company, focused primarily on Assisted Living and Memory Care communities, but also engaged in the development and operations of Independent Living and Skilled Nursing communities. HRA operates 27 communities and is partnering on the construction of 9 more communities in 7 states. HRA manages over $130 million in revenue and approximately $500 million in assets while employing 2,000 associates. HRA is planning to double in size over the next three years. For more information, visit http://www.HRAseniorliving.com.