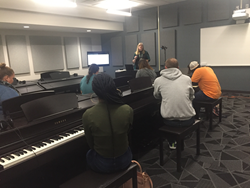 "We have a lot of digital music needs as most of our music students are working towards emerging careers in the music industry. This is the future. This is where students' heads are now," said Brad Rees, executive director of Arts Programs, Tiffin University.
TIFFIN, Ohio (PRWEB) October 10, 2017
The recent ribbon cutting ceremonies for the newly constructed Performing Arts Lab (PAL) at Tiffin University culminated a brisk fundraising effort of close to $7.75 million to date. The university acquired a fleet of 32 Yamaha instruments to equip its professional quality recording studio and student-run record label, a state-of-the-art music technology lab, rehearsal rooms for a wide variety of ensembles, practice rooms, classrooms and performance spaces.
Brad Rees, executive director of Arts Programs and assistant professor of Music and Arts Entrepreneurship at Tiffin University, spearheaded the university's giant leap forward in creating 20,000 square-feet of arts space within the shell of a repurposed steel factory. Tiffin's focus on growing its popular and commercial music degree programs—coupled with a wealth of extracurricular music activities that attract more than 200 non-major music students—drove Rees' instrument selection process.
In February 2017, Rees attended the Ohio Music Educators Association conference, intent on securing the pianos and technology to implement the music department's vision. "All the piano manufacturers were well represented, but Yamaha was the only one that bridged the gap between quality acoustic pianos and cutting-edge music technology, and did both on the same instruments. We have a lot of digital music needs as most of our music students are working towards emerging careers in the music industry," says Rees. "This is the future. This is where students' heads are now."
Rees was pleased to work with Solich Piano and Music Company, the authorized Yamaha dealer for most of Ohio, to acquire two Disklavier ENSPIRE Grand pianos, three U1TA TransAcoustic pianos, one U1SH Silent Piano, six AvantGrand pianos, one NU1 hybrid piano, and a full Clavinova music lab featuring 12 CLP and CVP digital pianos. Each room in the PAL is "wired for sound," offering students and faculty the capability to record and work together with the 32 Yamaha instruments placed throughout the facility.
"We have placed one of the Disklavier pianos, two of the Silent Pianos and four of the Clavinova digital pianos in the PAL rehearsal rooms," says Rees. "The N3 AvantGrand resides in The Marion Center, a multipurpose performance hall located just steps from our rehearsal and studio spaces."
"This is a real culture change for us," says Rees. "Prospective students see that we offer not just the same type of degree programs as bigger commercial music schools, but we also now have the technology to compete with larger universities while giving students the individualized attention that's the hallmark of a small school."
The second Disklavier reproducing piano is housed in Tiffin University's new recording studio designed to attract professional musicians for recording projects and to serve a centerpiece role at the student-run record label. Students will benefit from the Disklavier's outstanding concert quality acoustic piano as well as its unsurpassed capabilities for multi-layered MIDI functions for recording, playback and editing.
Students will also rely on the digital recording functions of the Yamaha Clavinova pianos in the music technology lab for pre-production work so they enter the recording studio with nearly finished projects. About a dozen students and three music faculty members attended a training session on the functions of the Clavinova lab presented by Lori Frazer, marketing programs specialist for the Yamaha Keyboard division, which focused on how the instruments may be used for songwriting, production and recording, as well as for intensive classroom music instruction.
"All of the pianos at Tiffin are technologically equipped with the exclusive technology that Yamaha has developed to accomplish student learning," says Dan Rodowicz, national sales manager, Yamaha Institutional Solutions Group. "This selection of instruments is the ideal mix because it offers Tiffin University lasting technological power that will serve the needs of students, faculty and the community for decades to come."
For more information about the commercial music programs at Tiffin University in Tiffin, Ohio, please visit http://www.tiffinmusic.com and http://www.tiffin.edu. For more information about Yamaha, please visit http://www.yamahaisg.com.
-END-
About Music at Tiffin University
Tiffin University is an independent, private, coeducational institution of higher education that was founded in 1888. It currently enrolls more than 3,500 students, and offers more than 25 majors through on-campus and online learning, including distinctive degrees in the Arts and Sciences. Its degree programs in commercial music include Arts Entrepreneurship (Music Industry) and Professional Music, as well as a wealth of opportunities for major and non-major students in extracurricular music activities. For more information, please visit http://www.tiffinmusic.com.
About Solich Piano and Music Company
Solich Piano and Music Company has served the discriminating piano needs of families, piano teachers, churches, schools, colleges, hospitals, nursing homes, and other music entities since 2005.  In addition to having physical locations in Cleveland, Columbus and Youngstown, Solich Piano continues to work with an array of organizations such as Pittsburgh Opera, Otterbein University, Capital University, Ohio University and University of Dayton.
About Yamaha
Yamaha Corporation of America (YCA) is one of the largest subsidiaries of Yamaha Corporation, Japan and offers a full line of award-winning musical instruments, sound reinforcement, commercial installation and home entertainment products to the U.S. market. Products include: Yamaha acoustic, digital and hybrid pianos, portable keyboards, guitars, acoustic and electronic drums, band and orchestral instruments, marching percussion products, synthesizers, professional digital and analog audio equipment, Steinberg recording products and NEXO commercial audio products, as well as AV receivers, amplifiers, MusicCast wireless multiroom audio systems, Blu-ray/CD players, earphones, headphones, home-theater-in-a-box systems, sound bars and its exclusive line of Digital Sound Projectors. YCA markets innovative, finely crafted technology and entertainment products and musical instruments targeted to the hobbyist, education, worship, music, professional audio installation and consumer markets.
Contact: Peter Giles/Giles Communications
(914) 798-7120 (pgiles(at)giles(dot)com)