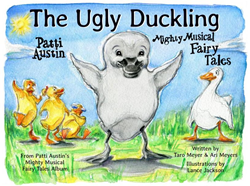 I want to teach, love and inspire our children to help each other rather than to bring each other down.
Los Angeles, CA (PRWEB) October 10, 2017
Cyberbullying remains an anonymous way for children to be cruel to each other, yet many parents remain unaware of this form of bullying. To support National Anti-Bullying Month this October, Grammy Winner Patti Austin is making her musicalized version of "The Ugly Duckling" available as a free download at her website, http://www.pattiaustin.com/the-ugly-duckling.
This new version of the ugly duckling story is from Ms. Austin's first children's album, Mighty Musical Fairy Tales which provides a contemporary context for classic fairy tales. Each story is infused with core values such as tolerance, sharing and forgiveness.
At the center of "The Ugly Duckling" is a story about bullying, an issue that has become an all too frequent occurrence in our children's lives, especially online. Research shows that over a third of school children have been a victim of cyberbullying. This affects both their mental health and safety, which impedes their ability to effectively learn. Ron Slaby, PhD, and Kim Storey, EdD (Eyes on Bullying in Early Childhood) note that "If bullying in the early years is overlooked or not stopped, young children who bully will continue to bully as they get older."
"As an artist I believe that children are the future," says Ms. Austin. "As I look around I see the future at risk. At this point in my career, I want to teach, love and inspire our children to help each other rather than to bring each other down."
"Children learn through joy, love, celebration, humor and magic," says Taro Meyer, the Grammy-winning audio producer and creator of Mighty Musical Fairy Tales. "Music and song unite these elements like no other."
In addition to the download of "The Ugly Duckling" is a fully illustrated storybook version of the song and a Suggested Activities pamphlet written for educators and families to share with children to facilitate discussion and develop critical thinking about bullying.
The Grammy Museum, Los Angeles, invited Ms. Austin to be part of their music education program Thursday October 12, 2017 at 11 am to run a workshop on empathy based on themes from "The Ugly Duckling."
"My goal with this campaign," says Ms. Austin, "is to help make a future where every child is accepted, respected and treasured."
###
ABOUT PATTI AUSTIN: Grammy winner Patti Austin crosses all musical genres, has made over 20 solo albums, and has performed her hit songs on the GRAMMYS® and the Oscars. As a performer, songwriter and vocalist she has had a star-studded career that began at the age of four, making her one of the most beloved artists the world over.
Mighty Musical Fairy Tales is a Let's Roar LLC Entertainment Production