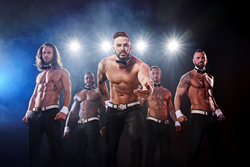 Each year, these guys bring a fresh, new production, and the audiences go wild. It truly is the ultimate girls night out.
Las Vegas, NV (PRWEB) October 10, 2017
Chippendales®, the award-winning #1 male revue in the world, is heading back on the road in January 2018 with their all new, "About Last Night" Tour. Produced in partnership with Live Nation, the steamy tour kicks off in San Antonio on January 10, 2018, and will travel cross-country with stops in over 30 cities including New York, Chicago, Denver and San Diego, amongst others. Tickets are available for pre-sale to select fans on Wednesday, October 11, 2017, and on sale to the general public on Friday, October 13, 2017.
"Chippendales is the number one male revue in the world," says Kelly Kapp, Senior Vice President of House of Blues Entertainment. "Each year, these guys bring a fresh, new production, and the audiences go wild. It truly is the ultimate girls night out."
In 1979, the Chippendales began gyrating their way into the hearts and laps of women everywhere, becoming the first all-male dance troupe for women in history. Named after the Chippendales-style classic furniture that adorned the original club in Los Angeles, the brand quickly became a pop-culture phenomenon. The success of the Los Angeles club spawned a New York club as well as other permanent locations and touring troupes that traveled the world, producing shows across Europe, the UK, Australia and Asia. Today the show's flagship company plays nightly at the Rio All-Suite Hotel & Casino in Las Vegas while the touring company travels the world.
For nearly four decades, the Men of Chippendales have performed for more than 100 million women in over 100 countries, have traveled more than 6.7 million miles while touring, have torn away over 1.2 million tank tops, worn 56,000 bowties and cuffs and have been photographed more than 70 million times. The famous Chippendales calendar became the first all-male calendar targeted to women and has sold more than 10 million copies worldwide and has been printed in over nine languages.
For a list of touring cities, please visit http://www.Chippendales.com. You can follow the Chippendales on Facebook, Twitter and Instagram @Chippendales #Chippendales.
# # # # #
About Chippendales:
Named "the most-wanted men in Vegas!" by ET's, The Insider, Chippendales captures the perfect balance of sex appeal and tasteful teasing, eliciting waves of screams from their excited audience. This high energy, fully choreographed, interactive show features some of the most physically elite men in the world who playfully dance and sing their way into the hearts of birthday girls, bachelorettes and girlfriends who just want to have fun. The cast, a very exclusive fraternity of only 20 members, is split across two productions – one based in Las Vegas at the Rio All-Suite Hotel & Casino and the other, currently selling out venues around on their world tour. As icons of American Pop Culture, The Chippendales recently celebrated their 35th Anniversary as a brand and in 2017 will celebrate 15 years at Rio All-Suite Hotel & Casino. They've been featured on numerous national television shows, including the Emmy Award-winning CBS series, The Amazing Race, The Ellen DeGeneres Show and The Real Housewives of Beverly Hills. Previous celebrity guest hosts featured in the Las Vegas production include international super model Tyson Beckford, Dancing with the Stars winner Nyle DiMarco, and "Beverly Hills 90210" and "Sharknado" star Ian Ziering, among others.
Chippendales, one of the world's most recognized brand names, is the premier provider of entertainment for women. The Company produces Broadway-style shows worldwide and licenses its intellectual property for select consumer products ranging from apparel and accessories to slot machines and video games. The company also operates Chippendales.com, an on-line lifestyle and entertainment destination for women. Chippendales® was established in 1979 and has headquarters in New York, with offices in Las Vegas and London. For additional information visit http://www.Chippendales.com; find us on Facebook, Twitter and Instagram @Chippendales #Chippendales.
# # # # #
CHIPPENDALES "ABOUT LAST NIGHT" 2018 TOUR SCHEDULE
January 10, 2018 San Antonio, TX Aztec Theater
January 11, 2018 Austin, TX Emo's
January 12, 2018 Dallas, TX House of Blues
January 13, 2018 Houston, TX House of Blues
January 14, 2018 New Orleans, LA House of Blues
January 19, 2018 Myrtle Beach, SC House of Blues
January 20, 2018 Raleigh, NC The Ritz
January 21, 2018 Charlotte, NC The Fillmore
January 25, 2018 Louisville, KY Mercury Ballroom
January 26, 2018 Indianapolis, IN Egyptian
January 27, 2018 Cincinnati, OH Bogart's
January 28, 2018 Cleveland, OH House of Blues
January 31, 2018 Portland, ME Aura
February 1, 2018 Boston, MA House of Blues
February 2, 2018 New York, NY The Gramercy
February 3, 2018 Huntington, NY Paramount Theatre
February 7 & 8, 2018 Baltimore, MD Sound Stage
February 9, 2018 Bethlehem, PA Sands Casino
February 10, 2018 Philadelphia, PA TLA
February 15, 2018 Detroit, MI The Fillmore
February 16, 2018 Grand Rapids, MI 20 Monroe Live
February 17, 2018 Chicago, IL House of Blues (2)
February 20, 2018 Denver, CO Summit
February 22, 2018 Phoenix, AZ Van Buren
February 23, 2018 Riverside, CA Fox Theater
February 24, 2018 Anaheim, CA House of Blues
February 25, 2018 San Diego, CA House of Blues