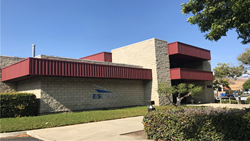 San Luis Obispo, CA (PRWEB) October 11, 2017
Empirical Systems Aerospace, Inc. (ESAero) announced today the opening of a new manufacturing facility in San Luis Obispo, CA to design, produce test, and certify electric and hybrid aircraft. The facility will significantly increase ESAero's manufacturing capacity and allow for production and integration of UAS and larger format air vehicle systems at higher volumes, including the all-electric NASA X-57 "Maxwell", for which ESAero is the Prime Contractor.
ESAero has a growing portfolio of electric and hybrid aircraft stand-alone designs, tools, systems and components incorporated into industry-leading air vehicles. "ESAero continues to advance its leading-edge designs and now has greater capacity to produce them ourselves," said Andrew Gibson, President and Chief Executive Officer of ESAero.
"Investment in this new facility and development of greater production capacity reflects the strength of the electric and hybrid aerospace market," Gibson noted. ESAero has offered an increasing array of designs and product services, many of which are specific to all-electric and hybrid-electric aircraft since 2008.
The 32,200-square foot facility will house flexible manufacturing lines, a clean room environment, laboratories, computer centers, test cells and office and conference space. The facility is DDTC registered, ITAR compliant, and runs a ISO 9001 based Quality Management System (QMS).
ESAero will retain their 8,000-square foot integration and test hanger facilities located on the Oceano Airport (L52), in Oceano, California for ease and flexibility in system testing and product development.
ESAero's management anticipates with the addition of the new facility, the company will house over seventy (70) skilled professionals in engineering, production and quality control, creating about forty (40) new jobs.
About Empirical Systems Aerospace, Inc. (ESAero)
Since 2003, Empirical Systems Aerospace, Inc. (ESAero), an aerospace engineering design and manufacturing company, has served the needs of the aerospace engineering industry through its work on military and commercial conceptual air vehicle designs, electric and hybrid propulsion system development, aircraft modifications, sub-scale technology demonstrators, rapid system prototyping, design for manufacturing, low-rate initial production, manufacturing, and niche engineering support. An "Advanced Design Group to Advanced Design Groups," ESAero is the Prime Contractor and Integrator of the NASA X-57 "Maxwell" all-electric airplane. ESAero customers include multiple NASA Centers, AFRL, AMRDEC, Lockheed Martin, General Atomics, Electricore, and AeroVironment. With a 32,200-square foot design & manufacturing facility located in San Luis Obispo, California and an 8,000-square foot integration and test location at the Oceano County Airport (L52), ESAero has expanded operations and takes full advantage of available airport space for system testing and product development. ESAero will continue to provide the aviation and aerospace industries with cutting-edge systems solutions and optimized manufacturing practices. For more information, please visit our website, http://www.esaero.com.
Press Contact:
Monica England
Marketing Director
monica.england(at)esaero.com
http://www.esaero.com
# # #