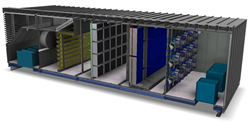 CAPS "Elite" product development has generated a great deal of excitement both within the company, and within the industry.
Houston, Texas (PRWEB) October 10, 2017
Custom Air Products & Services, Inc. (CAPS), a leading commercial and industrial heating, ventilation and air conditioning (HVAC) company based in Houston, Texas (US) is nearing completion of a project based on its new "Elite" custom replacement HVAC unit technology. The four 75,000 CFM custom HVAC replacement units were engineered and built for a mission critical project located in Colorado. The project utilizes the latest in EC fan grid technology as well as a strong, light-weight custom configurable aluminum structure.
"The 'Rocky Mountain Elite' project posed some challenges for the CAPS engineering team," explained CAPS HVAC Solutions Manager, Ric Luck. "The Elite CAPS team definitely came through for the customer by delivering a custom design solution in record time."
Luck then went on to outline the steps taken just to prepare for the project beginning with sending a team out to the site to take precise field measurements.
"Our project required us to remove a number of older units and replace them with new, state-of-the-art units, but designed to fit in the same location and utilize the same openings and connections," explained Luck. "Within 10 days of returning home from the field trip, the engineering team presented a 3D model for the customer's approval."
Shipping and placing this massive rooftop unit became engineering's first task to solve. The solution involved breaking down the RTU in five smaller sections to find the best transportation solutions, component arrangement, and weight configuration to achieve the desired results for this task. The RTU utilizes a number of applicable energy efficient technologies. EC (electronically commutated) fan technology, for example, allows the units to achieve greater efficiency in air-flow, and offer a greater range of operability choices.
CAPS "Elite" product development has generated a great deal of excitement both within the company, and within the industry. "We look forward to discussing some of the solutions outlined here with other potential customers," said Luck. For further information about the "Elite" products, Ric Luck can be contacted at ric.luck@customairproducts.com.
About Custom Air Products & Services
Custom Air Products & Services, Inc. is a full-service HVAC company that specializes in the design, construction, installation, modification, and servicing of industrial and commercial air conditioning equipment. CAPS employees are committed to providing exceptional custom design and quality workmanship at competitive prices.
Custom Air Products & Services currently occupies six (6) modern facilities, totaling 300,000 square feet in size. These buildings include service shops for fabrication, manufacturing, electrical modifications, a parts and shipping and receiving warehouse, administrative and engineering offices, and a training facility. CAPS services are provided to customers throughout the United States and abroad while their manufactured products have been delivered to sites around the world. Currently CAPS has equipment operating on six (6) continents and in 52 countries.
For more information, contact Custom Air Products at 713.460.9009 or visit them on the web at http://www.customairproducts.com.
###
If you'd like more information about this topic, please call Susan Archer at 713.460.9009 or email her at susan.archer@customairproducts.com.