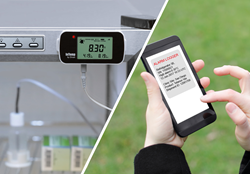 Bourne, MA (PRWEB) October 10, 2017
Onset, a world leader in data loggers, is expanding its InTemp family of pharmaceutical cold chain management (CCM) products with the launch of the InTemp CX Gateway. Working with Onset's proven InTemp CX400 and CX500 Series temperature data loggers and free InTempConnectTM cloud-based data warehousing service, the new InTemp CX Gateway enables real-time notifications of temperature excursions via email or text when loggers are in range. As a result, corrective action can be taken quickly to ensure the integrity of vaccines, whether they are stored in a facility or have arrived at their in-transit destination.
The CX Gateway seamlessly links InTemp data loggers to InTempConnect, which runs in the cloud. Users simply place the CX Gateway within a 100-foot range of one or more loggers and connect it to their local Wi-Fi or Ethernet. If an excursion occurs, a real-time update is sent to InTempConnect, which then can send alerts via email and text to a user-defined group of administrators.
In addition to enabling flexible alarm notifications, the CX Gateway can automate the process of downloading data from one or more InTemp loggers within range either at fixed intervals—such as daily, weekly or monthly—or upon the arrival of shipments. This saves time, eliminates the need to remove loggers to download them, and prevents missed downloads of critical vaccine storage temperature data.
"Too often, hospitals, clinics and companies in the distribution chain have had to choose between affordable vaccine storage data monitoring solutions that require manual uploads or Wi-Fi alternatives that are both complex and expensive," said Paul DellaVilla, product marketing engineer for Onset. "With the addition of our InTemp CX Gateway, we are harnessing mobile and cloud technology to bring unprecedented ease-of-use and cost-effectiveness to automating data downloads and real-time alerts. In doing so, we're making it easier than ever for customers to gain the anytime, anywhere insights needed to ensure the integrity of their vaccines."
Modernizing Pharmaceutical Cold Chain Monitoring
The CX Gateway is the newest addition to the InTemp product family, which provides a modern, affordable, and highly accessible alternative to manually driven pharmaceutical cold chain monitoring solutions that are susceptible to error. As a result, a range of organizations—vaccine clinics, hospitals, pharmaceutical manufacturers, logistics and storage management providers across the distribution chain, and clinical trials teams—can achieve greater accuracy while reducing demands on staff and resources.
Bluetooth-enabled InTemp CX500 and CX400 loggers offer a cost-effective alternative to global positioning system (GPS) based solutions and automatically transmit data about temperature conditions. There's no need to open refrigeration units or packages and risk compromising the environment. InTemp CX400 loggers have been designed specifically to meet all the requirements of the Centers for Disease Control and Prevention (CDC) Vaccines for Children program, and all InTemp products comply with Title 21 CFR Part 11, ensuring electronic records and electronic signatures are trustworthy and reliable.
The free InTemp mobile app enables easy and efficient logger setup, reducing staff training and workload. Authorized users can easily view data from the loggers, check logger status, set alarms, and create and share secure PDF reports from their smartphones and tablets. The app works with all Android and iOS mobile devices, the platforms that support 98% of mobile users.
Reports from the InTemp mobile app then can be uploaded to a dedicated account on the cloud-based InTempConnect data warehousing service, where authorized users can analyze data from a central location and make informed business decisions. The ability of InTempConnect to auto-synch data from the InTemp mobile app means data is uploaded in real time from all logger deployments via mobile devices or the CX Gateway, giving centralized visibility. Users can create and manage logger configuration profiles within InTempConnect and automatically sync them with mobile devices in the field, effectively providing a vehicle for two-way communications.
Pricing and Availability
The InTemp CX Gateway is available today and is priced at $250. For details on specifications, visit http://www.onsetcomp.com/intemp/products/software/cx-gateway. To learn more about the features and pricing of the InTemp CX400 and CX500 temperature loggers and InTempConnect, visit http://www.onsetcomp.com/intemp/products. The InTemp mobile app is available at no cost for Android at Google Apps for Work and iOS at Apple Mobile Enterprise Apps.
About Onset
Onset is a leading supplier of data loggers and monitoring solutions used to measure, record, and manage data for improving the environment and preserving the quality of temperature-sensitive products. Based on Cape Cod, Massachusetts, Onset has been designing and manufacturing its products on site since the company's founding in 1981. Visit Onset on the web at http://www.onsetcomp.com.
CONTACT
Onset Media Relations
508-743-3181
http://www.onsetcomp.com
media(at)onsetcomp(dot)com