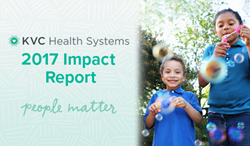 Olathe, Kansas (PRWEB) October 17, 2017
KVC Health Systems, a national leader in behavioral healthcare, child welfare, and community health and wellness, will unveil its impact in the lives of children and families over the past year during its 2017 Annual Celebration taking place October 19 at KVC's Ball Conference Center in Olathe, Kansas. During the program, KVC will thank staff, donors and partners; share stories about the positive impact the organization has had in the lives of children, adults and families; and present its 47th KVC Hero Award to Anne Roberts who served as Chief Operations Officer for 35 years. The event is open to community partners and the media; register at http://www.kvc.org/celebrate.
KVC touches the lives of over 60,000 children, adults and families each year through its diverse continuum of services including in-home family support, foster care, adoption, behavioral healthcare, substance abuse treatment, and psychiatric hospitals. In the 2017 fiscal year, KVC achieved these national results:

Directly touched 63,795 people's lives
Safely prevented 12,539 children from entering foster care by stabilizing and strengthening their families
Helped 590 families safely reunite after one or more of their children were in foster care
Supported 6,909 children in relative or foster families
Matched 449 children with adoptive families and passed the milestone of facilitating over 4,000 children's adoptions in the agency's history
Provided 21,590 children and adults with in-home therapy and other critical support
Treated 3,456 youth and adults at its psychiatric hospitals
The full 2017 Annual Report will be online starting October 19 at http://www.kvc.org/impact.
Each year, KVC presents its Hero Award to an individual, couple or organization that has made a significant difference in KVC's evolution and in the lives of children and families. Anne Roberts is the recipient of the 47th KVC Hero Award. Roberts joined KVC in 1982. She served as Chief Operations Officer from the role's inception through December 2015. As COO, Roberts oversaw strategic planning and organizational growth, as well as the development of high-quality programs and services. She was also responsible for system-wide performance improvement and the advancement of company goals. In 2016, she became Chief of Staff to support the transition to a new leadership team, assisting in the achievement of organizational goals through special projects, training and consultation. Recently, KVC Health Systems President and CEO Jason Hooper dedicated the KVC Education Center inside KVC Prairie Ridge children's psychiatric hospital to Roberts, unveiling a beautiful sign in her honor.
"Anne has always led with quality and she's always led with mission and cause," Hooper said at the dedication. "It's meaningful that we are able to honor your service to KVC in a hallway where we serve children and adolescents dealing with depression, anxiety, trauma and other struggles with the highest quality behavioral healthcare and psychiatric treatment. Thank you for your service."
Prior to her work at KVC, Roberts was an educator in Kansas City, Kansas. She has always appreciated the challenges of children and families with special needs. Her experience as a special needs educator translated directly into the KVC environment, which provides behavioral healthcare and social services to children and families. Roberts regards KVC's guiding principles, including "with privilege comes responsibility," and "children grow best in families" as significant to its success. She acknowledges that it is a privilege for KVC to serve tens of thousands of children and families each year and takes the organization's responsibility for assuring quality services very much to heart. Roberts' background in education also served her well in the provision of internal and external training and consultation.
Roberts earned her bachelor's and master's degrees in special education from Avila College and Kansas State University respectively. She served as a representative for the Field of Foster Care to the Special Education Advisory Council of the Kansas Board of Education from 2008 through 2014. Ms. Roberts is a 2014 graduate of the Kansas City FBI Citizen's Academy Program and a member of its alumni.
The 2017 Annual Celebration includes a program beginning at 4:00 p.m. and a reception beginning at 5:00 p.m. Learn more and register at http://www.kvc.org/celebrate.
###
About KVC Health Systems, Inc.
KVC Health Systems, headquartered in the greater Kansas City area, is a private, nonprofit 501(c)3 organization that enriches and enhances the lives of over 60,000 children and families each year by providing medical and behavioral healthcare, social services, and education. KVC's diverse continuum of services includes in-home family support, behavioral healthcare, foster care, adoption, substance abuse treatment, and children's psychiatric hospitals. KVC cares for more than half of all children and families involved in the Kansas child welfare system and thousands more children and families in Missouri, Nebraska, Kentucky and West Virginia. Learn more at http://www.kvc.org.