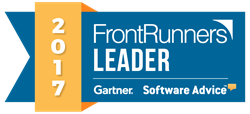 We are honored by the recognition from Gartner and Software Advice, but more importantly we are honored by the reviews from our users.
Plano, Texas (PRWEB) October 11, 2017
ResMan, LLC announced today it has been named a Leader in the FrontRunners Quadrant for Residential Property Management Software, the second such accolade in 2017. In March, ResMan was identified as the leading solution based on a combination of product capability and value. The September analysis, which evaluated over 100 property management products powered by Gartner Methodology yielded the same outcome for ResMan's Multifamily Solutions Suite.
ResMan has established strong market adoption in recent years by focusing on the essential functionalities needed to manage multifamily assets, while providing additional strategic solutions unique to both conventional and affordable property management. The expanding foundation of ResMan Essentials combined with a market-leading integration platform create a balanced, customer-centric approach to property management software.
"We are honored by the recognition from Gartner and Software Advice, but more importantly we are honored by the reviews from our users," states ResMan President and Co-Founder, Elizabeth Francisco. "ResMan was founded by the passion to deliver a software that is not only efficient, but complements both new and experienced property management professionals through innovative solutions and unparalleled customer service."
FrontRunners is published on Software Advice, a trusted resource for software buyers. FrontRunners evaluates verified product data and end user reviews from softwareadvice.com, capterra.com and getapp.com, positioning the top scoring products based on capability and value for small businesses. The FrontRunners quadrant for property management software is available here. Providers are reviewed on ease-of-use, functionality, product quality, customer support and value for money.
If you're a current ResMan user and would like to leave a review, you can do so here.
About ResMan:
ResMan® is the fastest growing property management software solution in the multifamily industry. In an age of new ideas, ResMan prides itself on recruiting some of the brightest minds in the industry to deliver intuitive software and industry-leading customer experiences. Built on a single platform: ResMan's Multifamily Solution Suite provides a highly intuitive solution to meet both operational and accounting needs for the multifamily owner/operator. The foundation of Multifamily Solutions Suite is the Essentials Platform which delivers the most robust core in the industry, providing easy-to-use automation tools that improve operational effectiveness and productivity for Conventional and Affordable Housing Property Management. Through dedicated and collaborative partnerships between ResMan and their integrated strategic partners, consumers can take advantage of best in class solutions with single sign-on and support from ResMan's dedicated client services team.
For more information, visit http://www.myresman.com
About FrontRunners
The content for the FrontRunners quadrant is derived from actual end-user reviews and ratings as well as vendor-supplied and publicly available product and company information that gets applied against a documented methodology; the results neither represent the views of, nor constitute an endorsement by, Gartner or any of its affiliates.