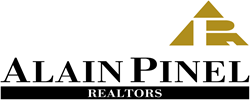 This certification reflects Alain Pinel Realtors' commitment to not only follow but to lead on global trends
SARATOGA, Calif. (PRWEB) October 10, 2017
Alain Pinel Realtors (APR) is pleased to announce that we are now certified, having successfully completed TheMIGroup Worldwide Partner Network® Certification program.
TheMIGroup Worldwide Partner Network Certification program was created as an enhanced training initiative, designed to strengthen the knowledge of its Partner Network. This training program was developed to address local and global marketplace trends, evolving client needs and process improvements for existing and new programs.
Led by Dwayne Waldrop (vice president, Supply Chain Management), Mark Bennett (executive vice president), Laurissa Norwick (vice president, Client Services), Dan Lucisano (vice president, Client Relations), and Theresa Banbor (team leader, Supply Chain Management), this year's Certification program focused on the following key initiatives:

How Regional Matters Impact Global Mobility
Presented by members of TheMIGroup's Partner Advisory Council: Gordon Bell, Roberta Mura, Michi Olson, Albin Porquez, and Isabelle Premont

Navigating the Changes to Global Business
Global RMC RfP 2.0
"This certification reflects Alain Pinel Realtors' commitment to not only follow but to lead on global trends," noted Michi Olson, vice president of relocation and business development at Alain Pinel Realtors. "Alain Pinel Realtors will continue its responsive efforts to international clientele seeking to buy and sell real estate in one of the world's most attractive markets, Northern California."
In attaining TheMIGroup Worldwide Partner Network® Certification, Alain Pinel Realtors solidifies its devotion to delivering outstanding services, not only to TheMIGroup's clients, but also to our own clients and their relocating employees.
About TheMIGroup
Founded in 1978, TheMIGroup is a leading provider of global relocation management solutions. TheMIGroup offers a full range of relocation solutions including Domestic and International Mobility Services, Compensation and Consulting Services - from total assignment management to individual services for transferees, expatriates, or individuals on the move. With full service business centers strategically located throughout The Americas, Europe and Asia, along with TheMIGroup Worldwide Partner Network® spanning over 160 countries, TheMIGroup has the capacity and capability to provide professional workforce mobility services across all time zones.
For more information: Visit http://www.themigroup.com or contact Kelly Jesson, Marketing Manager, TheMIGroup, T. (905) 812-8900, Kelly.Jesson(at)themigroup(dot)com
About Alain Pinel Realtors®
Alain Pinel Realtors (APR) is the largest privately owned residential real estate company in Northern California and is consistently ranked among the top 10 largest residential real estate firms in the United States based on closed-sales volume. The firm has 1,400 agents in more than 30 offices throughout Northern California. APR was founded in 1990 by Chairman and CEO Paul L. Hulme, and is based in Saratoga, Calif. Visit us at apr.com, china.apr.com, facebook.com/AlainPinelRealtors, and @AlainPinel.