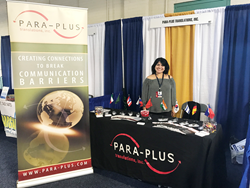 CHERRY HILL, N.J. (PRWEB) October 10, 2017
New Jersey based Para-Plus Translations, Inc. (http://www.para-plus.com), a global provider of translation and interpretation services, recently exhibited its services at the PA Procurement Expo held in Harrisburg, Pennsylvania. The PA Procurement Expo is a premier networking and educational event for suppliers and public procurement decision makers, including elected officials from Pennsylvania state agencies.
The exposition, which included product demonstrations and more than 50 workshops, showcased the newest and most innovative products and trends in public procurement. The language services of Para-Plus, with its mission of "creating connections to break communications barriers," were a fitting complement to the cutting-edge products and services on display.
Founded in 1980 by Sonia Santiago to address the need for high-quality interpretation and translation services in the legal community, Para-Plus can manage effective translations in 124 languages from Afrikaans to Yoruba. The company was named to the Inc. 5000 ranking as one of the fastest growing, privately owned companies in the United States. Para-Plus also was named a SmartCEO100 Best-Run Company and has been named to the New Jersey Law Journal's "Best of" reference guide of top service providers for the legal profession in New Jersey.
Thirty years after its founding, Para-Plus Translations continues to help clients around the world better communicate and form strong, lasting relationships. The company is operated by Sonia Santiago's two sons, Robert Santiago, Chief Operations Officer, and Carlos Santiago, Vice President.
About Para-Plus Translations, Inc.: Para-Plus Translations is a leading provider of comprehensive global translation, interpretation, transcription, voice-over, sign language and Braille services in more than 100 languages. Founded in 1980, Para-Plus Translations has been offering a wide range of foreign language services to businesses, individuals and organizations for more than three decades. Para-Plus Translations takes pride in delivering outstanding service and personal attention, representing a wide array of industries including businesses, law firms and legal service providers, governments and municipalities, health care, education, financial and insurance institutions. National and international clients rely on Para-Plus Translations to provide document translation, business and trade translation and interpretation, conference translation and interpretation, criminal justice and law enforcement translation and interpretation, medicine and health care translation and interpretation, educational translation and interpretation, and multimedia and voice-over translation and interpretation. The dedicated team of foreign language linguists assists clients in breaking down communication barriers to build lasting relationships with multicultural contacts. For further information, please visit http://www.para-plus.com.