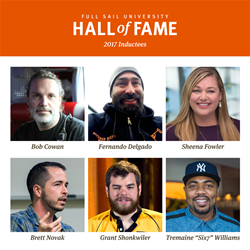 Winter Park, FL (PRWEB) October 10, 2017
Full Sail University is proud to announce the 2017 Full Sail University Hall of Fame induction class comprised of six graduates recognized for outstanding contributions to the world of entertainment, technology, media, and the arts. The induction of this new class of honorees will occur during Full Sail's 9th Annual Hall of Fame Week, scheduled to be held February 13-17, 2018.
Full Sail University's 9th Annual Hall of Fame will include a weeklong series of campus-wide events featuring:

Guest lectures, panels, workshops, and hands-on technology demonstrations from leading industry influencers, experts, and companies.
Career networking events focused on employment and mentoring for students and graduates.
Technology Expo showcasing the latest in tech trends and interactive experiences.
Live musical performances featuring a variety of artists and genres.
Interactive Creative Challenges for students and alumni.
Gaming tournaments, film screenings and more.
In addition, several events will be made available to the public via online streaming, and the week will culminate in an induction ceremony to celebrate and recognize this latest class of inductees.
The inductees to be honored during Full Sail University's 9th Annual Hall of Fame Week are:
Bob Cowan

Current Title: Front of House Engineer, Monitor Engineer & Production Manager
Industry Credits: Bob Cowan has worked in the live sound industry for over 20 years and serves as Front of House Engineer or Monitor Engineer and Production Manager on tour for some of the most notable artists in the industry including Metallica, where he has mixed shows with the band on all seven continents including Antarctica.
Additional artists Bob has worked with include: Melissa Etheridge‬‬, Slash, Bruce Springsteen and the E Street Band, Ringo Starr, George Benson, ‪Natalie Cole‬‬, ‪Enrique Iglesias‬‬, ‪Blues‬‬ ‪Traveler‬‬, ‪INXS‬‬, ‪Shania Twain‬‬, ‪Sammy Hagar‬‬, Frankie Beverly & Maze, Tokio Hotel, Phil Lesh, David Sanborn, Marcus Miller, Lords of Acid, Michael Bolton, Crushing Day, Sophie B Hawkins, ‪Megadeth‬‬ and more.
1994 Graduate (Recording Arts)
Fernando Delgado, C.A.S

Current Title: Production Sound Supervisor/Mixer, & Owner at Stickman Sound
Industry Credits: Fernando Delgado is the owner of Stickman Sound, Inc. in Las Vegas where he works in a variety of production genres such as live sports/entertainment, reality television, motion pictures and commercials on projects and with brands including: Coldplay in VR, FOX Sports coverage of Mayweather vs. McGregor, Top Gear America, The Ultimate Fighter, Kickboxer Retaliation, Show Dogs, Under Armour and Nike.
Most recently Fernando has been working with Flight Line Films mixing Blue Origin rocket launches along with a variety of VR projects.
Previously, Fernando has received an Emmy award in the category of Outstanding Achievement in Live Audio for his work with HBO's Boxing.
1997 Graduate (Recording Arts)
Sheena Fowler

Current Title: Orlando Film Commissioner and Senior Director of Marketing and Communications, Orlando Economic Partnership
Industry Credits: As the Orlando Film Commissioner Sheena works closely with productions seeking the unique backdrops and premiere production facilities that Central Florida has to offer supporting the workforce and businesses that make up Central Florida's entertainment production ecosystem. Key productions include Tomorrowland, Paper Towns, Sisters, The InBetweeners, Transformers: Dark of the Moon, Real Rob, and countless national commercial campaigns.
In her role as Senior Director of Marketing and Communications she manages public relations and content creation, promoting the region as a top business location.
Her prior experience includes production work with Warner Bros., HBO Boxing, CNN's Captain Planet Foundation, Go Film, Transition Productions, iNEXTv.com and WMFE (Orlando's PBS affiliate).
Sheena also has a background in Public Relations serving Orlando's Downtown Arts District tied to organization, promotion and implementation of special events including the Gibson GuitarTown Foundation Auction.
Sheena is a past-president of Women in Film & Television - FL and the immediate past-vice president of Film Florida.
Sheena was named to the Orlando Business Journal's "40 Under 40" list, which recognizes young leaders who have played a key role in shaping the Central Florida Community.
2006 & 2007 Graduate (Film & Entertainment Business)
Brett Novak

Current Title: Director, Editor and Visual Effects Artist
Industry Credits: Upon graduating from Full Sail's Digital Arts & Design program, Brett moved to Los Angeles where he landed work as a Visual Effects Artist on some of the biggest music video projects for the likes of Beyoncé, Kanye West, Lil Wayne, Jennifer Lopez, Britney Spears and Lady Gaga, to name a few.
Brett's work led him to a Lead Visual Effects Artist position with the Bandito Brothers, and later he branched out to pursue his own brand of video production.
Brett's short films have received over 25 million views online, several of which broadcast daily on TV channels in the U.S. and around the world, and has been featured in major outlets including: Rolling Stone, Huffington Post, VICE, and the BBC.
His career has led him to film in over 25 countries, and has garnered awards at numerous international film festivals in categories including Best Short Picture, Best VFX and Best Editing.
Brett has directed commercial work for brands and companies including: Mercedes, Audi, Volkswagen, Google, Mattel and Warner Brothers.
2007 Graduate (Digital Arts and Design)
Grant Shonkwiler

Current Title: Owner, Shonkventures & Executive Director, Game Developers Foundation
Industry Credits: Grant Shonkwiler landed his first position in the video game industry with AMI Entertainment/MegaTouch Games as a game programmer immediately after graduation. Soon after his start he moved up to Lead Designer and after 3 years with the company he had shipped well over 50 titles.
In 2011, Grant made the leap to id Software as a Technical Producer and worked on "Rage", working on the Multiplayer Team. After "Rage" he started working on the "Doom" franchise as a Producer for the Artificial Intelligence, Combat, Character and Narrative teams.
Grant's career continued to skyrocket as he accepted a Producer role with Epic Games in 2014 and an opportunity to work on "Fortnite" in addition to being a Lead Producer for one of the prototype teams on a project that eventually became "Battle Breakers."
In late 2016 Grant ventured out on his own starting a Production Consulting company called Shonkventures and has recently taken on an Executive Director role with the Game Developers Foundation, helping those interested in getting into the video game industry.
2008 Graduate (Game Design & Development)
Tremaine Williams

Current Title: Engineer & Producer
Industry Credits: Shortly after graduation Tremaine Williams began his career as an intern at the renowned Santa Monica, CA based Hidden Beach Recordings.
During his internship Tremaine became a voting member of The Recording Academy where he met the legendary production team of Jimmy Jam and Terry Lewis, which led to Tremaine landing a job as their in-house engineer/programmer earning him credits on projects with artists including Usher, Janet Jackson, 50 Cent, Jill Scott, Boyz II Men and Chaka Khan.
After a few years of studio engineering, Tremaine joined the touring team of multi-GRAMMY award-winning artist Mariah Carey as a stage manager, keyboard technician and programmer.
In between touring, he also earned television show credits producing music for hit television shows Empire (commercial), Keeping Up with the Kardashians, MTV's Real World and served as a Pro Tools operator for BET's Sunday Best, Comic View and Apollo Live.
Tremaine earned his first credits as a film composer for The Last Fall (2012), Sound Designer for 9 RIDES (2017) and serves as a Governor for the Los Angeles Chapter of The Recording Academy.
Tremaine is currently on tour with multi-GRAMMY award-winning artist Bruno Mars' 24K Magic World Tour 2017.
2004 Graduate (Recording Arts)
Since 2009, Full Sail University has celebrated the now time-honored tradition that is the Full Sail University Hall of Fame. Its purpose is to acknowledge those graduates who have made outstanding contributions to the world of entertainment, technology, media, and the arts throughout the university's almost 40-year history. This honor serves as a tribute to the creative inspiration, technical brilliance, and determination of each inductee, their unyielding dedication to more than a decade of excellence in their professional career, and their heartfelt commitment to the students, faculty, staff, and alumni of Full Sail University.
Additional information regarding events, special guests, and live musical performances will be announced closer to Hall of Fame Week. Please visit the official Full Sail Blog for more details, and follow @FullSail to join the #FullSailHOF conversation on Twitter.
About Full Sail University:
Full Sail University is an award-winning educational leader for those pursuing careers in entertainment, media, arts and technology. Founded in 1979, Full Sail has received accolades throughout its history, including most recently: One of the 2017 "Top Graduate & Undergraduate Schools to Study Game Design" by The Princeton Review, one of the 2016 "Top 25 Music Schools" by The Hollywood Reporter, and one of the 2017 "Top 50 Film Schools" by The Wrap Magazine. The Florida Association of Postsecondary Schools and Colleges also named Full Sail the 2016 "School/College of the Year."
Full Sail University is a graduate and undergraduate degree-granting institution offering on-campus and online degree programs in areas related to Art & Design, Business, Film & Television, Games, Media & Communications, Music & Recording, Sports, and Technology. With over 60,000+ graduates worldwide, Full Sail alumni have worked on countless award-winning projects with individual recognition including OSCAR®, Emmy®, GRAMMY®, ADDY®, MTV Video Music Award, and Video Game Award honors.
http://www.fullsail.edu
http://www.twitter.com/fullsail
http://www.facebook.com/fullsailuniversity