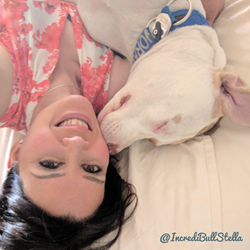 I thought I was going to die, but I didn't. Now my mission is to find ways to make a positive impact for both people and animals.
Paradise Valley, AZ (PRWEB) October 11, 2017
Meeks is a stage 3 breast cancer survivor who credits her ability to move past cancer to her rescued Pit Bull Stella. After suffering through the emotional and physical turmoil that accompanies a breast cancer diagnosis, Meeks was in remission but unable to re-engage in normal life. She happened to rescue a Pit Bull named Stella. Stella made an immediate impact on Meeks and helped her deal with the anxiety and depression she was experiencing.
Pit Bulls have the highest euthanasia rate, and spend more time at a shelter, than other types of dogs. Meeks and Stella are on a mission to help re-educate people about Pit Bulls, and show them in a positive light.
Meeks said she was hopeful that a Hunger Strike would perhaps give their message a better chance to be heard. She said, "I am willing to go without food if it gives us an opportunity to reach more people. We have a very important message to share. First, ladies, make sure you are doing self exams, no one is more familiar with your body than you. You don't want to find out at stage 3, like I did. Secondly, Pit Bulls deserve a fair shot at life, and Breed Specific Legislation (BSL) is unfairly targeted at many dogs who have never exhibited any problematic behavior. Stella was at high risk of euthanasia, and I can't imagine what a special dog the world would have lost if that had happened."
BSL is one reason why so many pit bulls end up at the shelter and why their euthanasia rate is higher than other breeds.
Meeks and Stella are on a campaign to raise awareness of breast cancer screening and encourage women of all ages to perform regular self examinations, and at the same time leverage Stella's social media fame to help people see Pit Bulls in a positive light. "I thought I was going to die, but I didn't. Now my mission is to find ways to make a positive impact for both people and animals, said Meeks." She has committed to go without food for at least three days, and is kicking off the hunger strike on October 14th at the Pittie Palooza event held at the Metrocenter mall in Phoenix, AZ. For more information visit: http://www.fixadoptsave.org/pittiepalooza
To learn more about Stella visit http://incredibullstella.com/.
About Stella the Pit Bull
Stella the Pit Bull is an Arizona-based pet celebrity and rescue dog who advocates animal fostering and training through a worldwide social media following. Marika Meeks adopted Stella while Marika battled a Stage 3 breast cancer diagnosis. Stella's love and happiness brought to Marika and her family have helped alleviate the anxiety and stress of the illness and treatment. Follow Stella online at http://www.incredibullstella.com and on Instagram, Facebook, Twitter and SnapChat. In 2017, Marika and Stella published their first book, The IncrediBullStella Coloring Book & Story, available on Amazon.