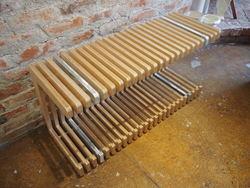 "Scott and I created the KARL Line to bring our custom pieces to a wider audience without compromising quality," says David Marlatt, DNM Architecture.
Sausalito, CA (PRWEB) October 12, 2017
DNM Architecture introduces The KARL Line of contemporary handcrafted semi-custom wood furniture that adds elegance to a room at a reasonable price. Crafted using Maple ApplePly furniture grade plywood, the first pieces in the collection include a shoe bench and end tables. Each piece is stripped down to its intended function with a clean, minimalist approach and is customized to fit the distinct style of its final owner.
The KARL Line is a collaboration of DNM Architecture and craftsman Scott Bell. Sold exclusively at KARL, the store, in San Francisco, each piece is designed by David Marlatt and handcrafted in Alameda, California, with CNC routed profiles. For personalization, the customer can select the wood finish and specify the height, length and width as well as other defining features of the individual item. To finish off the customization, each piece is dated and stamped.
"When one of our clients is interested in custom furniture to help define a space, Scott is often my first call," says David Marlatt, AIA, Founder of DNM Architecture. "Scott and I created the KARL Line to bring our custom pieces to a wider audience without compromising quality. Semi-custom allows clients to make relevant design choices for their homes and lifestyles at an affordable price."
Dining tables and chairs as well as bedside tables are planned additions to the KARL Line. Similar customization options will be offered with these pieces.
About DNM Architecture
DNM Architecture, founded by David Marlatt, AIA, is a San Francisco Bay Area based firm with a passion for creating captivating spaces for the home as well as the community. Projects range in scope from new custom homes and remodels to educational, commercial, and institutional.
About Scott Bell
Scott Bell is an artist and craftsman based in Alameda, CA. He received his MFA from U.C. Berkeley, and his paintings have been featured in numerous solo and group exhibitions as well as catalogs and publications. More recently, Scott has built everything from single-family houses to custom cabinetry and furniture, bringing his high sense of craft to every project.
About KARL The Store
KARL ​The​ ​Store ​is​ ​located​ ​at​ ​3234​ ​Sacramento​ ​Street ​in​ ​San​ ​Francisco.​ ​In​ ​addition​ ​to​ ​the KARL​ ​Line​ ​of​ ​furniture,​ ​the​ ​shop​ ​features​ ​a​ ​curated​ ​collection​ ​of​ ​mid-century​ ​modern​ ​furniture and accessories including lamps, pottery and art as well as vintage and contemporary jewelry and select vintage apparel, gifts and home items.