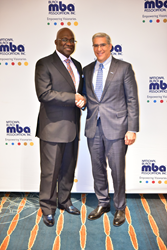 Boston, Massachusetts (PRWEB) October 13, 2017
The workforce development nonprofit Year Up has announced its partnership with the National Black MBA Association® (NBMBAA®), a national organization with over 10,000 members dedicated to the creation of educational opportunities and economic growth for Black professionals.
With this strategic partnership, Year Up alumni and staff will receive the opportunity to access memberships to join NBMBAA® in support of professional development opportunities including conferences and scholarships. To support Year Up's programs, NBMBAA® chapters in Year Up markets will partner with Year Up to provide mentors, guest speakers, and other volunteers.
"We are incredibly excited with this opportunity to diversify our networks, offer professional development opportunities to alumni and staff, and join the NBMBAA® in furthering our mission of closing the Opportunity Divide," said Year Up Founder and CEO Gerald Chertavian.
"The partnership with Year Up will reinforce NBMBAA's commitment to developing educational and professional development opportunities to diverse students. It is important to us to develop a pipeline of successful career-ready students to enter the workforce," said Jesse Tyson, President and CEO, National Black MBA Association®.
"This strategic partnership between the National Black MBA Association® and Year Up will further the goals of both organizations and allow us to jointly serve a generation of future leaders, who simply need the right support and an opportunity," said Year Up National Site Director, Chief Diversity Officer and Legacy Member of the National Black MBA Association®, Belinda Stubblefield.
Launched in Boston in 2000, Year Up is a national nonprofit that provides low-income youth (ages 18-24, without college degrees) with six months of free technical and professional skills training, followed by a six-month internship at a top company. Eighty-five percent of graduates are employed or attending college full-time within four months of completing the program.
About Year Up
Year Up's mission is to close the Opportunity Divide by providing urban young adults with the skills, experience, and support that will empower them to reach their potential through professional careers and higher education. Year Up achieves this mission through a high support, high expectation model that combines marketable job skills, stipends, internships and college-level coursework. Its holistic approach focuses on students' professional and personal development to place these young adults on a viable path to economic self-sufficiency. Year Up currently serves more than 3,600 students annually across 24 campuses in Arizona, Baltimore, Bay Area, Chicago, Dallas/Fort Worth, Greater Atlanta, Greater Boston, Greater Philadelphia, Jacksonville, Los Angeles, National Capital Region, New York City, Providence, Puget Sound, South Florida and Wilmington.
To learn more, visit http://www.yearup.org, and follow us on LinkedIn, Facebook, and Twitter: @YearUp
About National Black MBA Association® (NBMBAA®)
NBMBAA® is a non-profit, 501(c)(3) professional member-based organization which leads in the creation of educational and career opportunities for black professionals. Representing more than 11,000 members within 45 professional chapters, 33 Leaders of Tomorrow® (LOT®) chapters, and 300+ corporate and university partners, the organization is dedicated to developing partnerships that create intellectual and economic wealth in the Black community through its five channels of engagement: career, education, entrepreneurship, leadership and lifestyle. For more information, visit http://www.nbmbaa.org. Follow us on Twitter: @NBMBAAHQ and Instagram: @NBMBAAHQTeam