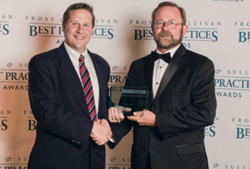 We often forget that innovation not only refers to technology... our success has come from our innovation with people.
(PRWEB) October 11, 2017
Qualfon, a mission-driven business process outsourcing (BPO) company and global provider of contact center services, has been honored by Frost & Sullivan, and recognized as having demonstrated excellence in growth, innovation, and leadership. Sebastián Menutti, a Frost & Sullivan Senior Analyst explained, "As the customer experience consolidates as a definitive competitive edge in the modern and highly competitive world, allying with a trusted BPO Is increasingly becoming the difference between success and failure for most organizations. Qualfon fills all the check points for becoming this partner for global enterprises: dispersed capacity throughout the world, extensive expertise in delivering world-class contact center services, and lower price points than most of its competitors."
Frost & Sullivan's Best Practices Awards recognize companies in a variety of regional and global markets for demonstrating outstanding achievement and superior performance in areas such as leadership, technological innovation, customer service, and strategic product development. Industry analysts compare market participants and measure performance through in-depth interviews, analysis, and extensive secondary research to identify best practices.
After receiving Frost & Sullivan's 2017 Latin American Contact Center Outsourcing Growth Excellence Leadership Award, Qualfon's VP of Marketing Brian Kearney responded, "Qualfon is honored to be recognized by such a prestigious organization as Frost and Sullivan. We often forget that innovation not only refers to technology, and our success has come from our innovation with people." Qualfon's operating model puts leadership closer to the customer and that is why it has invested in an innovative Leadership Academy Certification which trains all supervisors. It also has many programs to support our agents at work and in life, creating more engaged agents. "Our approach is simple but innovative," Kearney explained. "We focus on engaging our people leading to better customer engagement for our clients. In addition, high agent engagement leads to increased tenure that provides additional cost savings."
The award was given by Frost & Sullivan's at its annual Growth, Innovation & Leadership Awards Gala in September, at the Hyatt Regency Lost Pines Resort in Austin, Texas.
About Qualfon
Qualfon is a mission-driven BPO company and a global provider of contact center services and back-office processing. With experienced BPO leadership and a strong track record of business growth dating back to our founding in 1995, Qualfon helps companies reduce costs and deliver superior customer experiences. Today, we have approximately 12,000 employees serving international brands across many industries, and our intelligent outsourcing locations span the United States, the Philippines, Guyana S.A., and Mexico. Qualfon's mission to "Be the Best BPO, Make People's Lives Better" means we invest in our people and, in return, they take better care of you and your customers. Qualfon's employee retention regularly exceeds the industry average, which creates a people-driven value chain: Our employees stay longer, providing you a higher quality service at a lower price.