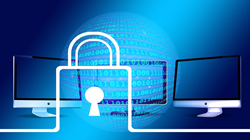 This is great validation of CloudFuze's Enterprise Content Security solution.
DURHAM, N.C. (PRWEB) October 12, 2017
CloudFuze, a provider of collaboration, migration, and security tools for cloud-based file and storage services, today announced that its Enterprise Content Security Solution has been selected by one of the top four global accounting companies to share and manage their corporate information.
After migrating multiple applications to the cloud, the enterprise organization realized the need for a secure solution that could integrate Microsoft SharePoint with its email solution, while meeting the EU's General Data Protection Requirements (GDPR) regulations. After a rigorous evaluation of security and risk assessment, the CloudFuze Enterprise Content Security solution was able to address all of the company's data security needs. As a result, the enterprise chose CloudFuze to tightly integrate with their authentication and policies for complete end-to-end security. CloudFuze will also enable secure file access from its on-premise data management system, Microsoft SharePoint, by securely authenticating and providing import and export capabilities of content to the cloud.
"This is great validation of CloudFuze's Enterprise Content Security solution," said Ravi Poli, CEO of CloudFuze. "We are very excited to have completed and passed such an intense assessment and to deploy the CloudFuze content security solution into the customer's private cloud. This further establishes CloudFuze as a leader in the industry for enterprise customers with sophisticated security requirements and complex deployment needs."
Adds Poli, "CloudFuze's commitment and investment in enterprise-grade security continues to expand beyond the on-boarding of such a large and highly regulated customer." CloudFuze is committed to improving content collaboration by bringing all user content together securely from it's platform with the help of Artificial Intelligence (AI), machine learning, and intelligent assistants. In addition, the CloudFuze Enterprise solution offers a number of secure content collaboration features, including:

Unprecedented range of connectivity - CloudFuze offers the widest range in the industry with connectors to more than forty public, private and hybrid cloud storage providers.
Federated Full Text Search - With a single search, users can securely search files with full text matching across all forty sources and view unified results.
Auditing & Reporting - Full auditing of file downloads, uploads, shares, device access and IP addresses for all users.
Control Cloud Access - Manage user clouds and enforce policies on who can access what clouds based on their role or group.
Prevent Data Leaks - Control company messaging rooms and channels to ensure there is no data leak.
About CloudFuze
CloudFuze is a leader in the evolution of cloud storage and document and file management. Our goal is to streamline file management and storage options so that all enterprises can benefit. The CloudFuze platform offers seamless and secure connectivity to the growing number of public, private and hybrid cloud storage solutions in the market. Additionally, CloudFuze provides a robust set of management and security capabilities that make it possible to collaborate and manage files and documents regardless of where they are stored.
To learn more, visit https://www.cloudfuze.com