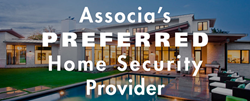 We're On Guard So You Don't Have To Be
HOUSTON (PRWEB) October 12, 2017
SecureCheck LLC is proud to announce its being chosen as the Associa Advantage Inc. exclusive provider for security and surveillance products for its over 9,000 communities and 5 million residents worldwide.
"Our number one priority is to keep our communities and residents safe and to make sure that they feel secure in their homes," stated Jennifer Shannon, Associa Advantage president. "Partnering with SecureCheck and making this new product line available to our clients at an affordable rate will provide the opportunity for each resident to protect themselves and have the extra security of being backed by an industry leading company."
"We feel that this new partnership will offer Associa's residents and management team an easy and affordable way to keep their families and properties safe and secure," states Jack Molho, SecureCheck founder and CEO. "Coupling the latest in cutting-edge systems with state-of-the-art monitoring facilities makes SecureCheck the best security product provider for Associa communities. The partnership provides customers premium security products which are a perfect fit for their individual as well as community's needs while always mindful of personal and community budgets."
With more than 180 branch offices across North America, Associa delivers unsurpassed management and lifestyle services to nearly five million residents worldwide. Our 10,000+ team members lead the industry with unrivaled education, expertise and trailblazing innovation. For more than 40 years, Associa has provided solutions designed to help communities achieve their vision.
SecureCheck is an established and well respected, Houston-based integrator and manufacturer of quality security products backed by some of the best warranties in the industry. The company was founded on the principles of honesty, integrity and performance. The firm is known for its no-nonsense, common-sense approach to helping business owners, communities, community managers and residents detect and deter crime.
For More Information Please Contact:
Jack Molho, CEO
SecureCheck LLC
9800 Centre Parkway Suite 120
Houston, Texas 77036
888.534.1834
jack(at)SecureCheckNOW(dot)com
http://www.SecureCheckNOW.com