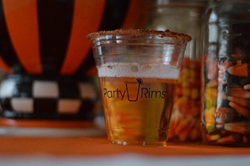 (PRWEB) October 12, 2017
Party Rims of Rancho Dominguez, California, warms up the fall season by adding a Chili flavor to their pre-rimmed cup lineup.
Party Rim Cups are pre-rimmed and ready to use. Party Rim Cups make your gatherings, for watching football games, tailgating and even Halloween events fun and easy to share with family and friends. Try them with your favorite seasonal beverage; cider, beer, juice, cocktails and even ice cream. Create a flavorful spicy taste with these new Chili Party Rim Cups. "No mess just add ice," says Dean Begim, Vice President of Logistics for Party Rims. Don't worry about clean up, just discard these recyclable cups.
The Party Rim cups save time in getting ready for your party, just set out the convenient pre-rimmed cups on your beverage counter along with your drinks, mixers, garnish, and ice.
Some will like it hot this fall, with our new chili flavor. Party Rim cups also make great snack cups. These spicy seasoned cups are a refreshing treat when seasonal fruits are served, try mango, pineapple, watermelon or even papaya for a new tasty sensation.
As a party host, the biggest issue in hosting a gathering is running the party and making sure everyone is taken care of. What better solution than to have pre-rimmed cups for your event, making less time at the bar and more time with your guests. Party Rim cups make your preparation time simple, all you need is ice and your favorite beverage for a great tasting drink, just a pour away. Party Rims didn't want to have the kids miss out on the fun, so some fun recipes for beverages and desserts suitable for kids are on the website as well. Watch them enjoy the party using the plastic unbreakable and disposable cups.
Party Rims offer 4 unique flavors for the pre-rimmed cups; Salted Lime, Strawberry Sugar, Sprinkles, and now Chili. Your next party offers something for everyone! You will want them all on your beverage bar. Convenient 12, 24 and 48 count quantities are available at http://www.partyrims.com and on Amazon.com
Party Rims are manufactured in Rancho Dominguez, California. All components are sourced and produced in the USA. Party Rims is an environmentally friendly company committed to clean, sustainable, and recyclable products. Party Rim cups are sold on Party Rims.com or Amazon.com. Bring Party Rims to your next gathering!