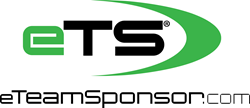 "We are honored and proud to be chosen as the Official Crowdfunding Fundraising Platform of the CIF." says Sean Connors, CEO of eTeamSponsor
CONCORD, Calif. (PRWEB) October 17, 2017
eTeamSponsor (eTS) has announced a partnership with the California Interscholastic Federation (CIF) which designated eTS as the "Official Crowdfunding Fundraising Platform of the CIF."
The CIF's exclusive collaboration with eTS represents an alignment of shared values regarding the positive impact of high school athletics in California. This new agreement will provide exciting opportunities for many athletes, teams and coaches to leverage a revolutionary approach to fundraising.
"The CIF is pleased to welcome eTeamSponsor to our family of corporate sponsors," said CIF Executive Director Roger L. Blake. "eTeamSponsor will provide our member schools a seamless and efficient manner to raise much needed funds for their programs via their online fundraising system."
During the five-year agreement, eTS will have the opportunity to demonstrate to coaches and athletic directors how its automated crowdfunding platform maximizes campaign participation, the funds raised outside their community and donor engagement.
"We are honored and proud to be chosen as the Official Crowdfunding Fundraising Platform of the CIF," says eTeamSponsor CEO Sean Connors. "The foundation of eTeamSponsor was built in 2010 by developing relationships with coaches, AD's and Principals. The excitement level for our team is high; most of our company having grown up in the CIF as former student-athletes, coaches and administrators, knows the positive impact athletics can have. Our goal is to educate CIF members about our platform and empower campuses to enrich the student-athlete experience with the funds raised by eTeamSponsor."
About the California Interscholastic Federation
The California Interscholastic Federation (CIF) was created in 1914 and is the governing body for high school sports in the state of California. CIF is uniquely positioned to foster student growth in values and ethics. CIF's ideal of "Pursuing Victory with Honor," provides the opportunity to influence the actions of the athletic community. CIF strives to promote equity, quality, character and academic development. CIF is a nonprofit federation and the state office, located in Sacramento, Calif., represents the interests of its member Sections. The 10 Sections represent geographic regions within the state: Central, Central Coast, Los Angeles City, North Coast, Northern, Oakland, Sac‐Joaquin, San Diego, San Francisco and Southern. CIF represents 1,587 public and private member schools and more than 831,000 student‐athletes. CIF conducts Regional and State Championships in badminton, cross country, football, volleyball, tennis, wrestling, basketball, soccer, swimming & diving, track & field, golf and water polo. CIF Sections conduct championships in more than 22 sports.
About eTeamSponsor
Since 2010 eTeamSponsor (eTS) has partnered with institutions to provide an automated crowdfunding solution that's raised millions of dollars nationwide. They've been hailed as the missing piece for successful fundraising and complete transparency, connecting athletic department fundraising with advancement personnel. Having pioneered automated crowdfunding for athletic programs at high schools nationwide, eTS aims to provide the most efficient and effective platform to meet the transparent needs of fundraising decision makers before, during and after their fundraising process. Ultimately eliminating the inefficiencies, personal liability and financial risk of fundraising for good. eTS is committed to staying at the forefront of innovative technology and unparalleled client service to ensure institutions reach their fundraising goals.