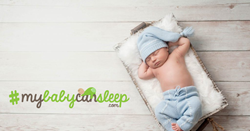 The key to getting your baby sleeping through the night is ongoing help, mainly consisting of emotional and mental support.
Davenport, IA (PRWEB) October 11, 2017
Brad and Greta Zude-Iowa parents of 6 children, sleep consultants, and founders of MyBabyCanSleep.com-help parents and their babies all over the world get peaceful slumber.
In their free 3 Secrets of A Sleeping Baby video which currently has 1.4 million view, Greta and Brad debunk many of the misconceptions parents have about getting their baby to sleep through the night and share sleep secrets that have worked for their children and thousands of others! "Watching our video gives parents value and helps them understand that they need us to succeed with their baby."
The Zude's Sleep Accelerator Course expands greatly upon 3 Secrets of A Sleeping Baby and provides ongoing and permanent support and mentorship. It is the only course of its kind found anywhere—from the design all the way down to the content they teach and how its taught! According to Greta and Brad, "Most baby sleep consultants charge $250-$450 dollars for a 1-hour phone consultation. The issue with that is you simply cannot solve all the logistical baby problems in 1 hour let alone the emotional problems moms and dads have that goes along with severe sleep deprivation."
Instead, MyBabyCanSleep.com offers permanent access to a video course with 90+ videos which parents can access on demand. Parents also get permanent access to a Master-Mind group with hundreds of other parents in it so they can share experiences and get additional help. "The key to getting your baby sleeping through the night is ongoing help, mainly consisting of emotional and mental support. Through video chat platforms we are also able to offer clients ongoing mentoring." The total value of the Sleep Accelerator Course is $3,888 but it is being offered now for a one-time payment of $197. The registration link for immediate live access can be found here.
SAMPLE CLIENT TESTIMONIALS:
Brett and Erica from Tennessee. Have Eva and Isaac, 8 months old twins. "For the first 6 – 7 months, we were up all night with the twins. Their naps during the day were inconsistent and our lives were all over the place. We were tired all the time. Brett and Erica kept saying surely they'll sleep tonight. But they didn't. We saw The Sleep Accelerator Course advertised on Facebook and we signed them up right away. The first night Eva cried 43 minutes and slept the rest of the night. Isaac cried for 30 minutes and then slept the entire night. On the 2nd night of the course, both babies slept and they never looked back. The course has been life changing. We feel human again and our relationship is better. The twins are happier babies now that they sleep. I wish we had signed up sooner, like when they were born."
Katie from California. She and her husband have Aubrey who is almost 6 months. Katie's been with My Baby Can Sleep for a week. "Before I took the course, it was very chaotic. My whole day and night evolved around Aubrey. During the day and all thru the night, I was nursing every hour to 1 ½. If I was lucky I'd go 3 hours. I was exhausted and then one day your video popped up on my Facebook. I told my husband that I was doing this. Two days after starting the course my baby was napping for 45 minutes. I'd feed her at 10 pm and didn't step back into the room until 7 am. I thought my baby was never going to sleep. Now she's a great sleeper. Your course has been a total night and day game changer."
Jasmine from Indiana. Has 2-year-old little boy, Mason. "Mason would not sleep in his own bed. He'd wake up in the middle night and wanted to come in our bed. This was not an option. I'd be up half the night with a screaming baby who I couldn't get back to sleep. I saw you on a Facebook live and took the advice you gave. Now I have a 2-year-old who sleeps 13+ hours. I'm a happy mom again. I can function again because I'm not sleep deprived or sleeping on a toddler's floor. You guys have changed our lives. We are so happy now."
Find more testimonials here.
ABOUT BRAD AND GRETA ZUDE
Brad and Greta Zude have been baby sleep consultants for nearly 10 years. They help moms, dads, and families all over the world get their babies and toddlers napping during the day and sleeping through the night through their unique online Sleep Accelerator Course Mentorship.
Brad and Greta came up with the idea for MyBabyCanSleep.com and the course after hiring a sleep consultant with their first child and after gaining considerable experience with their subsequent 5 children. Before they were even pregnant with their first baby, Brad and Greta enrolled in a parenting class. They wanted things to go perfectly when their first baby came. Brad and Greta share, "We are both college graduates and thought for sure we'd be smart and get ahead of the baby curve. Boy were we wrong! When our baby came things didn't go by the book and we needed help! A friend of ours recommended a consultant who could help us with our baby. We hired her, learned a lot, ended up having 6 kids and developed a way to get the same help we had out to the world in a new, fast, efficient, and effect way using today's technology."
Brad and Greta live in Davenport, Iowa with their 6 kids whom they homeschool and are heavily involved in their church. Their favorite quote is "If You Continue To Do What You've Always Done…You'll Continue To Get What You've Always Got!" –Albert Einstein