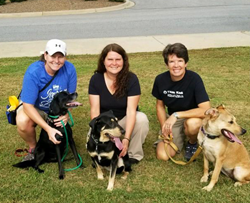 There are so many animals out there who are overlooked because they need training ... I'm looking forward to helping these animals get another chance at a fresh start.
Greenville, SC (PRWEB) October 11, 2017
When Katherine Wilkerson and Susanne Lueck adopted their dog Koda back in the spring, they knew they were facing an uphill battle. Koda had spent months in the shelter after being removed from a severely abusive home and it was clear to Wilkerson and Lueck that she had given up. She was lifeless and had to be carried out of the cage to the visitation area and, even then, she did nothing but try to get away. Even so, Wilkerson and Lueck packed her up and took her home to start her new life.
Within a few days, it was clear they needed professional help for the newest member of their family, so Wilkerson and Lueck called Tara Allen, soon to be, the local owner and operator of the Greenville Dog Wizard Franchise. And now, after seeing Koda's life-changing training experience, Wilkerson and Lueck have created a new non-profit called Rescued Life to help rescue and rehabilitate – with the help of The Dog Wizard Franchise – rescues who are desperately in need of a second chance.
"Working with The Dog Wizard has changed Koda's life – our lives – and we know there are other dogs out there that need our help. Our goal, through Rescued Life, is that we can raise money through rescue-themed merchandise so we can pull dogs who are tough cases out of shelters, work with Tara to rehabilitate them and then help them find loving forever homes who understand their needs," Lueck said.
It all started when Lueck and Wilkerson lost their dog Lola to cancer back in February and then, two weeks later, the untouchable neighborhood stray dog they'd been caring for for years, Tarzan, went missing. When they went to the shelter to look for him, they saw Koda (then named Bebe) lying in her cage, completely unresponsive. Although they didn't take Koda home that day, she weighed heavy on their minds and, when they saw her photo again on the shelter's Facebook page, they knew it was time. When they brought Koda home, she spent 23 hours a day lying in a corner and, when approached, she would back into the wall, shake and cower. And she was especially terrified of going outside. That's when Lueck and Wilkerson called The Dog Wizard, a national dog training franchise with a location in Greenville.
Koda was easily the hardest case Allen had seen.
"I've had some tough cases, but none quite like Koda. I was honest that I wasn't sure what the end result would be, but I told them I'd do my best. The first time I met Koda, she was terrified and she fled. I just worked on building the trust between us and gave the family some exercises they could do while they waited for Koda's official three-week training session. I knew she was facing an uphill battle and I hoped I could help," Allen said.
And she did. While Koda is still improving – and just recently started playing with other dogs – Lueck said the three weeks she spent with Tara proved to be "the most instrumental weeks in Koda's life."
"She became more confident, active and interactive and really began enjoying life. Tara was honest with us about when Koda had good days and when she had bad days and we were just in awe of Tara's knowledge, compassion, responsiveness and genuine care. Tara has been by our sides every step of the way since and continues to offer the support and guidance we desperately need to give Koda the life she deserves," Lueck said. "She has a long recovery before her, but little by little, Team Koda is breaking through."
Tony Mooney opened the Greenville Dog Wizard Franchise in May 2014, and Allen is in the process of buying this established franchise location. The company offers a wide variety of dog training services, including aggression rehab, baby prep, leash walking, obedience, problem solving, puppy preschool, rescue rehab, separation anxiety and socialization. She's looking forward to working with Rescued Life to help rehabilitate more animals like Koda.
"There are so many animals out there who are overlooked because they need training – whether they are a more extreme case like Koda or they've gotten a bad reputation for something like kennel aggression. I'm excited to be working with Susanne and Katherine and Rescued Life to help rescue those animals, get them ready for adoption and then help them find the right homes. I'm looking forward to helping these animals get another chance at a fresh start," Allen said.
Rescued Life is designing and selling merchandise about rescues and adopted animals to raise money for their Rescued Life Projects, a.k.a. the animals they are rehabilitating with The Dog Wizard. People can also make a direct donation on the website to help pay for the costs associated with the Rescued Life Project, namely food, supplies and medical costs. Learn more about Rescued Life and support the cause at http://www.rescuedlife.org.
The Dog Wizard Franchise is an emerging and successful dog training franchise system based in Charlotte. The company was founded in 2005 by Gretchen Hollifield, who recently partnered with Franchise Funding Group in Cincinnati to accelerate the franchise system's growth and help positively impact more dogs and families throughout America. There are currently 18 franchise locations in the United States.
For more information or to schedule a free evaluation for your dog with the Greenville Dog Wizard, call (864-704-1418), email tara(at)greenvilledogwizard(dot)com or visit http://www.GreenvilleDogWizard.com. Greenville Dog Wizard serves Greenville, Spartanburg, and surrounding areas.
About The Dog Wizard: The Dog Wizard was started out of love for dogs and a burning desire for a better and more fulfilling life. After graduating from Wake Forest, where she was a point guard on the women's basketball team, Gretchen Hollifield found herself working a traditional office job 50+ hours a week stuck behind a desk, trapped inside all day, and with very little excitement and joy in her work life. She dreaded going to work and finally reached her breaking point and escaped. Her real passion was being around dogs. So in 1997, with courage and faith, Gretchen became a certified dog trainer. But sadly, the expensive certification company, like most, only gave her technical training and didn't properly prepare her to market, operate, and grow a successful and substantial business. She struggled until she developed her own proprietary marketing, operating and dog training systems under her The Dog Wizard brand in 2005. Her perfected business model was a success and her income soared as she added more dog trainers to her business. Gretchen then wanted to offer this superior business model and satisfying lifestyle to other dog lovers wanting their own business and freedom. In the summer of 2013, she launched The Dog Wizard as a franchise system. Learn more at TheDogWizardFranchise.com.