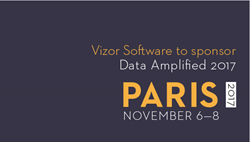 Vizor is proud to be sponsoring Data Amplified again this year.
DUBLIN (PRWEB) October 12, 2017
Vizor, the world leader in enterprise software for financial regulation and cross-border information exchange for Tax Authorities, today announced it would be participating at the Data Amplified 2017 Conference as the Gala Dinner sponsor. The Conference, hosted by XBRL International, will be held November 6th to 8th at the Marriott Rive Gauche in Paris, France.
At the conference, visitors to Vizor's exhibition space will have the opportunity to learn:

Why leading financial regulators such as the Bank of England (BoE), Saudi Arabian Monetary Authority (SAMA), and tax authorities such as New Zealand Inland Revenue Department have selected Vizor Software.
How Vizor collects supervisory, statistical, and other relevant data in both structured and unstructured formats.
How to fundamentally simplify and strengthen financial regulation with a smart, flexible solution that supports the full supervisory lifecycle.
How pairing Vizor Software with XBRL results in more efficient and timely reporting, as well as increased control over complete and accurate filer information. For example, the ability to validate across filings, periods and peer groups, something not inherently possible with XBRL.
How to harness technology to make financial supervision, faster, easier, and more effective for financial regulators.
Vizor, a member of XBRL Europe, offers financial regulators a powerful set of features to simplify and strengthen regulation systems, resulting in an end-to-end supervisory solution.
Vizor's powerful XBRL-centric features not only automate financial data collection and validation processes but also drive engines for risk profiling, market statistics production, onsite supervision, and business intelligence reporting.
Benefits of Vizor Software:
Ease of Use
A Vizor solution requires limited XBRL knowledge on the part of the supervisor or industry: the regulator can choose to use XBRL for a subset of supervisory challenges, while regulated institutions also can have the choice of filing using alternative formats where XBRL is not the right fit or not required.
Fast Roll-out
Vizor's approach maps a return or taxonomy onto a powerful and flexible data model. This results in short project implementation times; Vizor can put a fully capable solution for standardised returns or taxonomies (such as Solvency II or COREP/FINREP) live in a matter of months.
Extensibility
Vizor provides the ability to add comprehensive business rules and warnings that are not provided by or possible in an XBRL taxonomy or other data collection formats.
Efficiency & Timeliness
By applying Vizor workflows, the supervisor has complete oversight of the reporting habits of filers, enabling efficient and effective control of the reporting process.
For more information about Data Amplified 2017, visit https://www.dataamplified.org/
@vizorsoftware will tweet from the conference using the #DataAmplified hashtag.
About Vizor
Vizor Software has been the standard for financial regulatory technology, since 2000. Vizor is the global leader in enterprise software for financial regulation and cross-border information exchange for Tax Authorities. Vizor is trusted by Central Banks, Financial Regulators and Tax Authorities from around the globe for the collection, validation and analysis of highly complex data from Financial Institutions. Serving the needs of Financial Regulators and Tax Authorities in more than 30 countries, Vizor simplifies and strengthens financial regulation and tax information exchange systems.
You can learn more and visit Vizor at http://vizorsoftware.com or by following Vizor on Twitter, LinkedIn, Google+ and Pinterest.