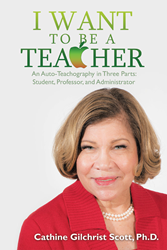 BLYTHEWOOD, S.C. (PRWEB) October 16, 2017
An experienced teacher, education administrator and teacher trainer has released her practical guidebook for current and future teachers of all skill levels to attaining success in their schools and professional endeavors. In "I Want to Be a Teacher," author Cathine G. Scott, Ph.D., presents a comprehensive manual to improving quality of teaching and, as a result, fostering student achievement.
Inspired by her dynamic, life-long career in the education field, "I Want to Be a Teacher" explores Scott's experiences pursuing and obtaining her undergraduate and graduate degrees, working and growing as a teacher and expanding her influence as a prominent educator into education administration roles. Through her book, Scott aims to prepare readers keen on teaching to be competent, well-qualified and effective in their roles.
"I wrote this book because I wanted to inspire, motivate and encourage prospective, novice and veteran teachers," Scott said. "It's important that our educators understand what they must know, do and care about in order to be impactful in their classrooms and, ultimately, their teaching careers."
Scott's "teachography" will offer educators a pathway to amplifying teaching methods, assessing student learning needs and pursuing professional goals, in turn allowing them to encourage, motivate and inspire their students to be successful.
"I Want to Be a Teacher"
By Cathine G. Scott, Ph.D.
ISBN: ISBN (hardback); ISBN (paperback); ISBN (electronic)
Available at the Archway Publishing Online Bookstore, Barnes & Noble and Amazon
About the author
Cathine G. Scott, Ph.D., has spent her career teaching at all levels of academia and has served in a number of collegiate education administration roles. Scott holds a doctorate in education administration, curriculum, instruction and assessment, training and development and gifted education from The American University. She currently resides in Blythewood, S.C. To learn more, please visit http://www.cathinegscott.com.
###
Review Copies & Interview Requests:
LAVIDGE – Phoenix
Danielle Grobmeier
480-648-7557
dgrobmeier(at)lavidge.com
General Inquiries:
LAVIDGE – Phoenix
Maggie Driver
480-998-2600 x 584
mdriver(at)lavidge.com