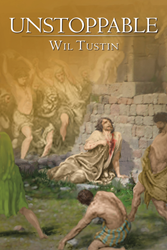 CHICAGO (PRWEB) October 16, 2017
A Chicago economist and historian has released his second novel on the life of Paul, the Apostle, which chronicles the disciple's travels by foot, donkey and boat as well as his unshakable faith in the face of floggings and imprisonment. In "Unstoppable," author Wil Tustin delivers a secular examination of Paul's relentless passion and devotion despite his trials and tribulations.
Tustin was first inspired to write about Paul after being diagnosed with a life-threatening disease and grappling with his medication's side effects of depression and suicidal thoughts. Encouraged by the apostle's perseverance through life's adversity, Tustin found comfort, healing and strength in Paul's victories.
"Early on in my diagnosis, I was truly struggling to keep my head above water," Tustin said. "I needed something, or someone, to change my frame of mind. When I stumbled upon Paul, I couldn't believe the struggles he had gone through – I was hooked. My hope is that this book will meet readers who are facing difficulties and give them both a good story and the courage to keep going."
A first century story presented to a 21st century audience, "Unstoppable" puts forth an inspirational account of Paul's journey through hardship to his lasting impact on the Christian religion and the world. Through his book and Paul's story, Tustin aims to provide readers with a road map for surviving and managing the pitfalls of life.
"Unstoppable"
By Wil Tustin
ISBN: 978-1-5246-7576-9 (hardback); 978-1-5246-7577-6 (paperback); 978-1-5246-7575-2 (electronic)
Available at the AuthorHouse Online Bookstore, Barnes & Noble and Amazon
About the author
Wil Tustin is an economist and historian, and he previously taught economics and psychology at the State University of New York and State University of Tennessee. Tustin is also a father, student of music, cyclist and a member of the Cook County prison ministry. He currently resides in the Chicago suburb of Arlington Heights. To learn more, please visit http://www.wiltustin.net.
###
Review Copies & Interview Requests:
LAVIDGE – Phoenix
Danielle Grobmeier
480-648-7557
dgrobmeier(at)lavidge(dot)com
General Inquiries:
LAVIDGE – Phoenix
Maggie Driver
480-998-2600 x 584
mdriver(at)lavidge(dot)com