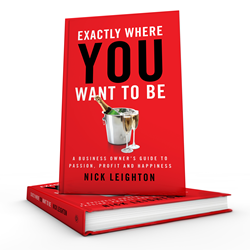 Many business owners across the country are doing it wrong
Newport Beach, CA (PRWEB) October 12, 2017
According to a new book by author Nick Leighton many business owners across the country are doing it wrong. Many dream of owning a business, but the reality of actually doing so can leave entrepreneurs burnt out or trading too much time for too little reward. But commercial success, personal fulfillment, and quality time spent with loved ones aren't mutually exclusive. Business owners just need a competitive advantage to learn how to make their companies work for them, and to discover their own path to success.
Leighton says, "Owning a company is a pain. You've experienced sleepless nights, wondering how you're going to pay your team members, your rent, your taxes, and yourself. Business owners often suffer considerable frustration in their personal lives and risk losing their marriages. It's only fair to ask: Why do you want to own your own company?"
Leighton has the answer in Exactly Where You Want to Be – A Business Owner' Guide to Passion, Profit & Happiness. His easy reading but information-filled book is a must-read for any business owner or budding entrepreneur. Author Nick Leighton shares his passions for business and offers sound insights along with personal anecdotes (from getting hijacked in Pakistan to meeting his wife at the Playboy Mansion), enticing the reader to turn the page. Highly recommended for anyone pursuing their dream business.
Corporate coach and serial entrepreneur Nick Leighton has helped countless business owners reset their goals and rediscover their passion. In Exactly Where You Want to Be, he presents a framework for how to set achievable personal and professional objectives, as well as how to tackle tricky issues, including leadership, sales, marketing, outsourcing, management, hiring, communications, operations, consumer experience, and adapting to an ever-changing market.
Leighton sums it up, "Life is for living. Your business can give you both financial and individual triumph, if you learn how to build it the smart way instead of the hard way."
Nick Leighton has spent more than twenty years working with entrepreneurs and business owners to take their personal and professional lives to the next level. He has lived and worked in Europe, the Middle East, Asia and South America – now residing in Southern California – and has worked with Fortune 500 companies, SMB's, non-profit organizations, political parties and members of royalty.
Driving this work is a single vision: business owners should make more money and have more free time to achieve their life goals—whether that goal is writing more, partying at the Playboy Mansion, attending concerts, or living it up while on exotic travel. After all, the more we love our lives, the more we love our work.
Advance Praise
"Every business owner struggles with issues around their business, especially surrounding the emotional side. Why do you do the work you do? What purpose does it serve? How can you get more fulfillment out of your business? Nick has explored these issues in depth and has some really interesting answers."

Cameron Herold, Founder of the COO Alliance, and Author of Double Double and Meetings Suck
"You are just as likely to solve a problem by being unconventional and determined as by being brilliant. That's my experience, and Exactly Where You Want to Be takes your hand and guides the business owner, making sure you embrace your misfit determination to have fun and make a profit. Read it."

Sir James Dyson OM CBE FRS FREng, inventor, industrial designer and founder of the Dyson company 
"A must-read book for business owners. Nick writes in a provocative and hugely entertaining way. The advice he offers will take your business to the next level."

Dr. Ivan Misner, Founder of BNI and a New York Times bestselling author
"I urge you to read this book. Nick's decades of global entrepreneurial experience is condensed into a fun read."

Dr. Daniele Struppa, Professor of Mathematics and President of Chapman University
Editor's Notes:
Book launched Tuesday October 10, 2017
Presently trending on Amazon as #1 in several categories: here
Book details from: http://www.exactlywhereyouwanttobe.com/#thebook
Image of Book cover and author: http://tiny.cc/EWYWTBpr
Nick is available for interview - 949-478-5880 - nick(at)LeightonLive(dot)com