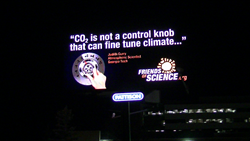 Friends of Science says this move by BNP Paribas SA against the financing of oil sands, shale gas and coal is discriminatory, punitive and not based on current climate science, calling it a financial 'green' trade war against Canada and the US
Calgary, Alberta, Canada (PRWEB) October 12, 2017
BNP Paribas SA recent announcement in Bloomberg of Oct. 11, 2017, that it will no longer invest in oil sands, shale gas, or coal is hypocritical and based on out-of-date climate change science says Friends of Science Society
Two recent summaries of International Energy Outlook by the UN EIA prepared by Ottawa energy policy consultant, Robert Lyman, posted on the Friends of Science blog show that world markets for fossil fuels are booming; renewables, not so much.
In Lyman's summary, he reports that:

Neither the OECD nor the non-OECD countries will come close to attaining the emission reduction objectives contained in the COP21 agreement.
The slight rise in OECD emissions over the projection period will be dwarfed by the massive emissions growth in the non-OECD area, and especially in Asia.
By 2040, China's emissions would be almost two and a half times those of the United States.
As for renewables replacing fossil fuels for electricity generation, the report states that by 2040 the world will generate some 34,049 billion kWh electricity of which only 5,024 will be from non-hydro renewables for a total of 14.8%. Likewise, electric cars will not have taken over the world by 2040. Electric vehicles will only be 3.1% by 2040 and 4.0% by 2050 of the projected world transportation energy usage. Lyman explains "Why Renewables cannot Replace Fossil Fuels by 2050" in an earlier report.
In the Bloomberg article of Oct. 11, 2017, BNP Paribas SA claims oil sands development harms the environment and will instead invest in renewables. Friends of Science says oil sands development and reclamation are world-class with proven restoration of mined land as a self-sustaining ecosystem. By contrast, BNP Paribas SA intends to invest in renewables which do not address climate change and which cannot support even a basic society according to Prof. Michael J. Kelly's work of May 23, 2016, published in MRS Energy and Sustainability journal. Renewables are often produced in developing nations with no environmental controls whatsoever as reported in the Daily Mail Jan. 26, 2011, as: "In China, the true cost of Britain's clean, green wind power experiment: Pollution on a disastrous scale"
In light of this evidence, Friends of Science says this move by BNP Paribas SA against the financing of oil sands, shale gas and coal is discriminatory, punitive and not based on current climate science, calling it a financial 'green' trade war against Canada and the US, both fossil fuel rich nations, by banks rooted in countries that are fossil fuel poor.
Regarding the BNP Paribas SA Paris COP-21 'climate pledge' to keep world temperatures below 2°C, Friends of Science reject this simplistic notion, saying bankers and politicians can't stop climate change. They refer to Dr. Judith Curry's March 29, 2017 testimony to the US Senate Science Committee wherein she stated: "Asking scientists to provide simple policy-ready answers for complex matters results in an impossible situation for scientists and misleading outcomes for policy makers."
Friends of Science Society says financial institutions and investment offerings normally require continuous disclosure of changing market parameters. Friends of Science says bankers should not manipulate markets in a fruitless effort to stop climate change which is mostly driven by unpredictable natural factors like solar cycles and ocean fluctuations.
About
Friends of Science Society is an independent group of earth, atmospheric and solar scientists, engineers, and citizens, celebrating its 15th year of offering climate science insights. After a thorough review of a broad spectrum of literature on climate change, Friends of Science Society has concluded that the sun is the main driver of climate change, not carbon dioxide (CO2).
Friends of Science Society
P.O. Box 23167, Mission P.O.
Calgary, Alberta
Canada T2S 3B1
Toll-free Telephone: 1-888-789-9597
Web: friendsofscience.org
E-mail: contact(at)friendsofscience( dot)org
Web: climatechange101.ca