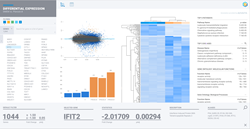 With Rosalind, we've evolved genomic data analysis and interpretation - our customers can get back to revolutionizing the organic world
San Diego, CA (PRWEB) October 12, 2017
OnRamp BioInformatics (https://www.onramp.bio/) has launched Rosalind™, the first-ever genomics analysis platform specifically designed for life science researchers to analyze and interpret datasets, by eliminating all bioinformatics complexity. Named in honor of pioneering researcher Rosalind Franklin, who made a major contribution to the discovery of the double-helix structure of DNA with her famous photograph 51, OnRamp's Rosalind™ platform aims to simplify the practice of genomic data interpretation.
"The platform puts the researcher into the driver's seat of data analysis," says Tim Wesselman, CEO and Founder of OnRamp.
"Rosalind™ will democratize bioinformatics by broadly expanding access to genomic and proteomic technologies for cancer research, precision medicine and sustainable agriculture."
Over the past two decades, research technologies such as next-generation sequencing, microarray, and mass-spectrometry have become mainstream. While these technologies have driven significant medical advances, their full potential to transform personalized medicine remains constrained by the unprecedented volume and complexities of the data being generated.
OnRamp's Rosalind™ overcomes a number of the limitations found in existing data analysis tools:
Complex tools require highly-trained bioinformaticians who are constantly overextended and in high demand. These skilled bioinformaticians spend valuable time on manual processes that could be automated so they can focus on exciting challenges and new frontiers. Service providers and kit companies lack scalable analysis solutions for customers using their products. Pharma experts continually articulate their need for robust, highly scalable data management solutions which enable them to securely and efficiently store, track, and share data.
"Top cancer research institutions have been vocal about their frustrations," says Wesselman. "Currently, they spend thousands of dollars sequencing samples, only to receive datasets that require weeks and months of additional analysis. Rosalind™ delivers these analysis results within hours, not weeks."
The self-guided Rosalind™ platform empowers researchers to analyze their own data. For the first time, researchers performing large-scale genomics studies across a range of fields (including drug development, precision medicine, and agri-business) can rapidly and dynamically explore and interpret their own data, accelerating their next phase of research while saving time and money.
Rosalind™ guides the researcher through the entire process, from experimental design to interpretation, for analyses including transcriptomics and epigenetics.
OnRamp CTO Jean Lozach explains how the responsive, interactive interfaces allows researchers to create their own analyses from start to finish:
"Researchers define their experimental design and upload raw data sets. Rosalind™ then performs scalable backend analyses and interpretation to generate biologically relevant results that meaningfully advance their research. This transformative experience restores the element of excitement and provides a measurable increase in productivity."
"Advanced bioinformaticians deserve all of the credit for building state-of-the-art applications to analyze genomic, proteomic, and microarray data," Lozach continues. "While these tools remain the lifeline of genomic analysis, more simplified user experiences are now required to empower today's cancer biologists to focus on their research application, not which software application to use."
Tim Wesselman concurs:
"We believe that widespread adoption of automated bioinformatic technologies will dramatically lower research costs and, ultimately, put more focus back on what to do with results, not how to get to them."
"With Rosalind™, we've evolved genomic data analysis and interpretation, so our customers can get back to revolutionizing the organic world."
About OnRamp BioInformatics
Based in the Genomics Capital of San Diego, OnRamp BioInformatics provides software and systems to streamline and simplify the analysis, data management and storage of large-scale genomic datasets so that biologists, researchers and drug developers can harness the full potential of DNA sequencing. Follow us on Twitter (@OnRampBio), or visit us at http://www.onramp.bio.
About Rosalind Franklin
Born in London, England in 1920, Rosalind Elsie Franklin studied chemistry at Cambridge, earned a research fellowship and a Ph.D. for study that aided the British war effort. Franklin went on to significantly advance our understanding of X-ray crystallography and was instrumental in the discovery of the DNA double helix. She died of ovarian cancer in 1958 at the age of 37, her contribution to the discovery of the helical structure of DNA going largely unrecognized during her lifetime.