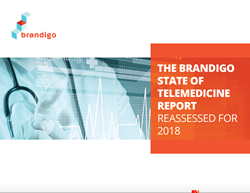 The key will be for providers to make an increased effort to encourage and educate their patients.
NEWBURYPORT, Mass. (PRWEB) October 12, 2017
Healthcare brand strategy consulting and marketing communications firm, Brandigo, formerly known as Aloft Group, today unveiled their "State of Telemedicine Report Reassessed for 2018" white paper, an assessment and forecast of telemedicine growth and demand. The forecast details trends, emerging sectors, patient provider acceptance, and explores potential factors impacting growth.
Overall, the data within this report points to steady growth in the field of telemedicine, as hospital adoption is becoming widespread. Still, significant challenges remain for established and emerging telemedicine brands, particularly as it relates to educating consumers on the uses and benefits of the technology.
Brandigo's "State of Telemedicine Report Reassessed for 2018" white paper also compares results with findings from their "The State of Telemedicine: 2017 Telemedicine Industry Growth Forecast," unveiled in November 2016.
Brandigo's new white paper is based on:

Exclusive Brandigo survey data collected in August 2017
Additional third party surveys and reports
Current healthcare industry trends
Changing demographics and economic demands
Highlights of Brandigo's "State of Telemedicine Report Reassessed for 2018" include:

Telemedicine remains one of the fastest growing sectors in the overall healthcare market, on track to grow from the reported $25.53 billion in 2015 to $57.92 billion by 2020, with a compound annual growth rate (CAGR) of 17.85 percent over the next five years.
Telehealth offerings by employers are becoming nearly universal. By early next year, 96 percent of employers will offer telemedicine services to employees.
Telemental health is a viable new frontier for telehealth, as mental health disorders continue to be a major issue in the United States, with about 43.8 million adults experiencing a diagnosable mental illness in 2013.
Lack of patient understanding surrounding telemedicine will be a major challenge facing telemedicine implementation. According to Brandigo's recent Telemedicine Outlook survey, 50 percent of respondents are not at all familiar with the term "telemedicine."
It's possible that widespread telemedicine adoption could have unforeseen impacts on the quality of patient care, as 52.6 percent of respondents of Brandigo's Outlook Survey report a decline in physician eye contact during in-person visits.
The healthcare experts at Brandigo foresee steady growth within the telemedicine industry if physicians and providers take the necessary steps to ensure appropriate patient adoption and understanding.
"Right now, more providers are adopting the technology than patients are choosing to use it. But once more individuals personally experience telehealth services, the industry will likely see the uptick of telehealth utilization," says Matt Bowen, president of Brandigo North America. "The key will be for providers to make an increased effort to encourage and educate their patients."
For the full detailed analysis from Brandigo, please download their "State of Telemedicine Report Reassessed for 2018" https://hubs.ly/H08TyLV0 
About Brandigo
Brandigo is a global brand strategy and market growth firm that powers business performance through a market insights and data-driven approach that unifies vision, business strategy, brand strategy, and marketing execution for leading healthcare brands such as the New England Journal of Medicine, FUJIFILM Medical Systems, nThrive, Southcoast Health, Nuance, MediRevv, and AAAS-Science Magazine. Brandigo helps transform organizations into market leaders by uncovering distinct, research-based strengths, overcoming perceived weaknesses, and aligning organizational architectures, because when healthcare and health technology brands are empowered to act strategically, they are able to cut through the clutter and touch more lives. Brandigo is based north of Boston in Newburyport, MA, Manchester, United Kingdom and in Shanghai, China. For more information, please visit http://www.Brandigo.com