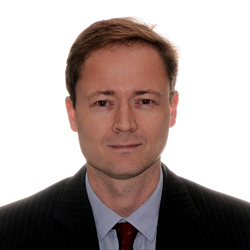 Lakeland, Florida (PRWEB) October 12, 2017
Florida Polytechnic University Professor of Data Analytics, Dr. Robert Steele, has been invited to deliver a keynote speech at the 8th Institute of Electrical and Electronics Engineers Annual Ubiquitous Computing, Electronics and Mobile Communication Conference (IEEE UEMCON 2017), on October 21 at Columbia University in New York.
The conference aims to bring together scholars from different backgrounds while providing an opportunity for researchers, educators and students to discuss and exchange ideas on issues, trends, and developments in computing, electronics and mobile communication.
Members of the conference approached Dr. Steele after he submitted a paper on novel data analytics developments including their application to healthcare. Dr. Steele's keynote talk titled Data Analytics and Learning Systems: The Role of the Internet-of-Things, will examine research results to highlight the opportunities and challenges for data analytics.
"It's both exciting and humbling to share some insights and thoughts with such a prestigious group of scholars," said Dr. Steele. "This event provides a strong platform for companies looking to build big-data projects or apply analytics but feel they may not have the in-house expertise. I am looking forward to connecting with others at the conference to build projects applying the emerging analytic techniques to varying industries."
Fellow keynote speakers include other distinguished experts in analytics and computational systems from organizations such as Columbia University, Johns Hopkins University and Sandia National Laboratories.
"Dr. Steele is an accomplished researcher, as evidenced by his invitation to be a keynote speaker," said Florida Poly President Dr. Randy K. Avent who was named a 2015 Fellow by the IEEE. "Here at Florida Poly our professors, like Dr. Steele, dedicate themselves to educating students and also to producing impactful research."
Prior to joining Florida Poly, Dr. Steele served as division director and full professor at the Medical University of South Carolina's Division of Health Informatics. He holds a Ph.D. in Computer Science, has authored more than 120 peer-reviewed publications, and his work has been patented and successfully commercialized. Dr. Steele has extensive experience securing competitive external research funding and partnering with industry. His research interests include data analytics, health informatics, mobile information systems, cybersecurity, machine learning, sensor-based systems, and health analytics. Dr. Steele also serves as the Director of the university's Health Informatics Institute.
For more information on the 8th IEEE Annual Ubiquitous Computing, Electronics & Mobile Communication Conference visit http://www.ieee-uemcon.org.
About Florida Polytechnic University: Florida Polytechnic University is the 12th member of the State University System of Florida and recently received regional accreditation from the Southern Association of Colleges and Schools Commission on Colleges (SACSCOC) to award bachelor's and master's degrees. Dedicated exclusively to STEM (Science, Technology, Engineering and Mathematics), the University is a powerful economic engine within the state of Florida, blending applied research with industry partnerships to give students an academically rigorous education with real-world relevance. Faculty experts at Florida Polytechnic University provide insightful analysis, opinions and comments about a broad range of STEM and higher education subjects. To connect with Florida Poly, click here. The campus, located in Lakeland, Florida along the I-4 High Tech Corridor, opened for classes in the fall of 2014.