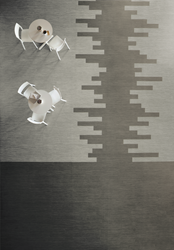 Cartersville, Ga (PRWEB) October 12, 2017
Patcraft's newest LVT, Vinings, is designed to enhance the performance of high-demand environments. Imparting a sense of being surrounded by nature's serenity, the product evokes a calming atmosphere to promote healing within a space.
"Vinings is inspired by the long, linear aerial roots of the tropical cissus plant found in rain forests," said Patcraft Designer Kelly Stewart. "The design emulates the plant's root patterns that form a 'curtain' of vines, allowing light to glimmer through."
Named a 2016 Silver Nightingale Award recipient in recognition for its contribution to the healthcare built environment through product design and innovation, Vinings' 6" x 48" profile offers a wide array of design possibilities for use in corridors, lobbies, patient rooms, office areas and nurses' stations. Vinings is designed to coordinate with the colors in Patcraft's Ivy Walk, which gives designers and end users the ability to effortlessly use both products throughout a space.
Polish optional, Vinings offers easy, low-cost maintenance and eliminates harsh cleaning chemicals in the breathing zone to help improve indoor air quality. The product features a 30 mil wear layer, with ExoGuard Quartz Enhanced Urethane. It is FlooreScore Certified, contributes to LEED certification, and offers a 10-year warranty and 10-year underbed when installed with Shaw 4100 or S150.
About Patcraft
Part of Shaw Industries, Patcraft is a leader in high-performance commercial flooring, delivering performance carpet tile, broadloom and resilient with innovative design and superior service to meet the needs of every market sector.