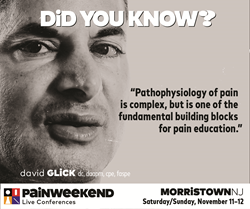 Various new regulations in New Jersey make it a hotbed for much needed opioid education among clinicians.
MONTCLAIR, N.J. (PRWEB) October 17, 2017
Earlier this year, after calling the New Jersey opioid epidemic a "public health crisis," Governor Chris Christie signed legislation regarding prescriptions and substance abuse treatment. "With New Jersey restricting opioids to a 5-day supply for acute pain and requiring insurance coverage for drug rehab, they have been among the most active of states to create hardship for acutely injured patients requiring opioids, while at the same time offering refuge to those with an opioid use disorder," comments Jeffrey Fudin, BS, PharmD, who will be among the presenters at PAINWeekEnd Morristown.
PAINWeekEnd on November 11 and 12 at the Westin Governor Morris, 2 Whippany Road in Morristown, will be an educational and exciting 2-day program providing busy clinicians and allied healthcare practitioners with 12.0 hours of relevant, practical instruction in the management of chronic pain.
Dr. Fudin continued, "Various new regulations in New Jersey make it a hotbed for much needed opioid education among clinicians. I'm especially thrilled to be lecturing on how to properly interpret urine drug screens and the pseudoscience surrounding morphine equivalent doses, both of which are key components to careful prescribing and appropriate therapeutic monitoring." Dr. Fudin is an Adjunct Associate Professor at the Western New England College of Pharmacy and a Clinical Pharmacy Specialist and Residency Director at Stratton VA Medical Center in Albany.
Dr. Fudin will be presenting You're in Control or Urine Control: Clinical Pearls of Drug Testing Case Studies along with The MEDD Myth: Practice and Research Implications.
Other courses include (and are subject to change) Chronic Pain Assessment; When Acute Pain Becomes Chronic; Pain Pathophysiology Unraveled; Nonopioid Analgesics: Antidepressants, Adjuvant Therapies, and Muscle Relaxants; Pain Diagnostics: Clinical Pearls to Improve Common Tests for Pain; Not for Human Consumption: New Drugs of Abuse and Their Detection; Evidence-Based Approaches to Chronic Pain Management: Time to Reconsider the Benefit of Technophilism?; and Reefer Madness: Taking the Insanity Out of Medical Cannabinoids.
Commercially supported activities—addressing a range of product, disease state, and medical information topics—will also be presented.
Online registration fee for this PAINWeekEnd Conference: $199. PAINWeekEnd registrants may register for the 2018 PAINWeek National Conference, September 4-8, in Las Vegas, for $200 off the current online published price.
PAINWeekEnd is provided by Global Education Group. About Global Education Group:
Global Education Group focuses on producing partnership-based CME for healthcare practitioners. The Global team works with a select group of medical education companies, associations, academic institutions and healthcare facilities to develop and accredit live healthcare conferences and workshops as well as online activities. With each partnership or joint providership, Global brings accreditation expertise, project management excellence and grant funding intelligence. Based in Littleton, Colo., Global has accreditation with commendation from the ACCME. Global also holds accreditations to offer continuing education for nurses, nurse practitioners, pharmacists, dietitians, dentists and psychologists. Global is a division of Ultimate Medical Academy.