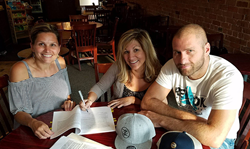 We signed up for three stores right away because we see the potential in the Ziggi's brand and the franchise. It's up and coming, so we're excited to get in early and be a part of the growth.
LONGMONT, COLO. (PRWEB) October 12, 2017
Ziggi's Coffee (http://www.ZiggisCoffee.com), a burgeoning Colorado franchise company, continues expansion with the signing of their first multi-unit agreement to open three drive-thru locations over the next three-to-five years in the northwest suburbs of Denver.
Franchisee Natalie Lord and her business partner Zdenek Dendis realized the opportunity after visiting the location in Longmont on Main Street where Ziggi's was founded. They were immediately attracted to the local coffee shop feel and were excited to learn the company provides a franchise opportunity. Having the chance to join a growing franchise that shares similar values as themselves, in an industry that is sustainable, yet expanding, was the right decision and the timing was perfect for Lord and Dendis.
"We're very thrilled to be a part of the Ziggi's family," said Lord. "It's a great brand, with amazing coffee and great principles. We signed up for three stores right away because we see the potential in the Ziggi's brand and the franchise. It's up and coming, so we're excited to get in early and be a part of the growth."
With 15 years of experience in retail management, in addition to prior franchise ownership, Lord is ready to help expand the Ziggi's brand and brew up excitement for her new venture. Dendis, who will primarily provide financial support for the business, also runs his own construction company. Together, Lord and Dendis have a lot of business expertise and say the coffee industry is exciting, but admit it's a bit new to them.
"The coffee business really appealed to me because it's sustainable and something people are always going to want to enjoy. When I discovered Ziggi's, I was surprised at how much work actually goes into a cup of coffee. I was really impressed with the Ziggi's programs and processes," said Lord. "I'm a business woman and I'm always looking for great opportunities. Ziggi's just has the right formula and it's working."
The multi-unit franchise agreement allows Lord and Dendis to open three locations, expanding the brand throughout Denver's northwest suburbs, with the first location planned for Westminster, an area that is currently experiencing rapid growth.
Lord says the demand for coffee is high in that part of town and she is eager to get in early. "This is just the start for us. We want to grow the company and then continue expanding."
Founder Brandon Knudsen is excited about the recent expansion of the brand. "For us, it's about finding the right fit to bring into our franchise family. We have the recipe for success, we're looking for folks who are prepared to be a good steward of the Ziggi's brand and help us grow wisely," said Knudsen.
Ziggi's Coffee is on a fast track of growth with eight existing locations and twelve more currently in development across the country. Individuals who are interested in franchising with Ziggi's Coffee can find more information at http://www.ZiggisCoffee.com/franchise and are encouraged to get in touch with the Franchise Team by filling out an online inquiry form.
About Ziggi's Coffee
Ziggi's Coffee, the leading specialty coffee shop and drive-thru franchise, is dedicated to serving only the finest sustainably-sourced coffee, uniquely handcrafted drinks, and amazing, locally-made breakfast, lunch, and snack options. Founded in 2004, the Colorado-based company is on a mission to elevate the standard of service within the coffee shop industry. From specializing in a variety of great-tasting coffee and food items to providing fast and friendly service, the Ziggi's Coffee brand is focused on creating a positive experience that is faster, more authentic, and convenient for the demand of consumers seeking higher-quality coffee and food options on the go. In addition to its distinctive menu and superior service, Ziggi's Coffee is also committed to making a positive difference in the local communities it serves. With eight existing Colorado locations, and additional units in development, Ziggi's Coffee is positioned to quickly grow its presence in a variety of communities across the U.S. To learn more about Ziggi's Coffee and its franchising opportunities, visit http://www.ZiggisCoffee.com/franchise or follow Facebook, Twitter, and Instagram.