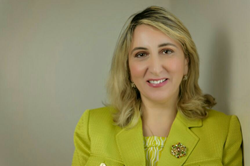 With nearly three decades of progressive oncology experience, Heather brings a considerable amount of expertise to breast cancer treatment and prevention
Queens, NY (PRWEB) October 12, 2017
In recognition of October as Breast Cancer Awareness Month, Queens Medical Associates, a leading cancer care facility specializing in hematology and oncology, will host an informal information session on Thursday, October 26, from 3-5 PM. Heather Bain, BSN, R.N., OCN, will lead the program and discussion, which is open to the public, to provide critical information and exchange ideas on living and coping with a Breast Cancer diagnosis.
According to the American Cancer Society, breast cancer is still the most common cancer among women in the United States, after skin cancer. By the end of 2017, an estimated 252,710 women will be diagnosed with breast cancer and an estimated 40,610 women will die from it.
"With nearly three decades of progressive oncology experience, Heather brings a considerable amount of expertise to breast cancer treatment and prevention, said Dr. Malvina Fulman of Queens Medical Associates. "Her knowledge of this arena and being on the front lines with our patients as a nurse navigator will surely provide valuable information to those affected by this disease, and the Queens general public."
Bain has over 25 years of progressive oncology experience in both inpatient and outpatient settings within the tri-state area. In her role as a nurse navigator at Queens Medical Associates, she follows patients from diagnosis to survivorship, providing streamlined care to facilitate a seamless journey.
During the session, clinicians will cover issues such as fatigue, nutrition and the risk of lymphedema (arm or leg swelling). Participants are encouraged to come with questions and concerns to discuss with physicians and other survivors, with the goal of learning about available resources and how to increase quality of life.
Attendees will be informed about known risk factors for the disease, which can influence survival, as well as the latest data on prevention, early detection, and treatment. "Most treatments come with side effects, and even patients with a positive outcome can face challenging lifestyle changes," explained Bain. "It is important to have an open dialogue with your health care provider who can help navigate these new norms."
The event will take place on Thursday, October 26, from 3-5 PM at the Queens Medical Associates office located at 176-60 Union Turnpike in Fresh Meadows. For more information about Queens Medical Associates, visit http://www.queensmedical.com/.
ABOUT QUEENS MEDICAL ASSOCIATES
Queens Medical Associates (QMA) is a well-established physician practice and infusion center which provides hematology and medical oncology care for patients with cancer and blood disorders. Located in Fresh Meadows, New York, QMA's physicians and clinical staff bring decades of experience providing exceptional care and treatment. Approximately 300 patients are served daily translating into over 200 treatments. QMA's team members communicate in five official languages (English, Spanish, Chinese, Korean, and Russian). The practice also offers infusion therapy for many conditions including Crohn's disease, multiple sclerosis, rheumatoid arthritis, and organ transplants.