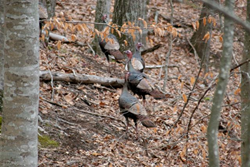 . "Hunters truly believe in persevering these species for future generations," Joan Howe
PARIS, Tenn. (PRWEB) October 14, 2017
"Go West" was familiar advice in the 1800s and it's still a sound recommendation, especially when seeking abundant places to hunt in the Western Tennessee River Valley. While many hunters prefer private land, it is often unavailable, prohibitively expensive or simply too far from home. Fortunately, hundreds of thousands of public hunting acres are available in the Valley's Western Region of Northwest Tennessee and Southwest Kentucky.
Several wildlife refuges, wildlife management areas and a national recreational area are nestled into the riverbanks and woods of the Western Region, and most of them offer public land for hunting. However, this privilege comes with a few caveats.
Aside from the obvious, such as knowing specific regulations and property boundaries, the time-tested tips below will make hunting time on public land safer, more relaxing and rewarding. Folks from Clarks River National Wildlife Refuge, Tennessee National Wildlife Refuge and Land Between the Lakes National Recreation Area chimed in on this list. The three prolific public hunting areas offer tremendous acreage, abundant game and friendly, helpful staffs.
9 Tips for Successful Hunts on Public Lands

Do the homework – This includes scouting early and often, finding not one, but several spots to hunt, and using game cameras when allowed. Also, take time to ask questions of the folks at the refuge, they know the territory and hunting is often a top priority.
The Tennessee National Wildlife Refuge (TNWR) is consistently in West Tennessee's top areas for hunting, according to TNWR Ranger Joan Howe. But if hunters will call or come visit before they're ready to hunt, rangers can "do them one better by steering them to the areas with the most abundant wildlife," said Howe, who mentioned an additional perk. "Sometimes hunting on public lands can be a bit confusing. Touching base with us before they come can help hunters clarify regulations. On this and most refuges, much of the staff hunts, and they want their fellow hunters to have a quality experience on the refuge."
The Clarks River Refuge in Southwest Kentucky is similar. "Our refuge is in a very rural area. It's a wooded area and hunting is one of our primary uses," said Refuge Manager Michael Johnson. "Hunting is one of the top two out of six priority public uses that the refuge fosters along with environmental education."
Go deep or go home – Many hunters on public land fail to travel far enough into the woods to find the places where the game feels safe. Keep walking until all traces of civilization are left behind. This is what hunting is all about.
Brock Turner resides in Northwest Tennessee and has hunted Land Between the Lakes for a half century. "There's a whole lot more to deer hunting besides shooting," said Turner, who appreciates the art of the hunt. "You've got to scout them way back in the woods, learn their habits and find their trails," he said. "You've got to be able to kill one on the first shot. If you don't, then you've got to be able to track him. When you find him, you've got to know how to field dress him. And if you get turned around out there, well, you've got to find your way back, sometimes in the dark. That's deer hunting," he said, "not just shooting."
Be prepared – The truck may be several miles away, so pack in everything needed to get in and out safely with bounty in tow.
And the winner is – "You may delay, but time will not," said Benjamin Franklin. Ol Ben wasn't talking about signing up for quota hunts, but his wisdom still applies.
John Westbrook agrees with Franklin. As the Environmental Stewardship Staff Officer at Land Between the Lakes, Westbrook noted that there are "plenty of occasions to hunt, but being drawn for a quota hunt certainly increases the odds. Stay on top of deadlines for quota hunt registrations," he advised, "and remember that LBL spans two states."
Stewardship is a team sport – The joys of nature can be offset by garbage, a gut pile or a broken camp chair. Pack an extra trash bag and leave the land even better than you found it.
"We get the occasional hunter who's going to gut a deer and leave it, but for the most part, hunters are great conservationists," said Howe. It's worth noting that hunting fees on most wildlife refuges are directed toward habitat preservation and restoration. "Hunters truly believe in persevering these species for future generations," said Howe. "When people visit the refuge and express concern that hunting is allowed, we explain to them that they get to see a wide variety of animals, thanks in part to our hunters."
Be the 'U' in PUBLIC – Be aware of the needs of other sportsmen and other outdoor recreationalists. Avoid hunting on top of others, dragging game through the woods at the crack of dawn and talking on the phone. It's OK to give a little for the opportunity to hunt on thousands of acres.
Your name here – Just like labeling underwear for camp, it never hurts to write your name on items such as stands and blinds. In addition, taking photos of items and serial numbers is always a good idea.
Sticks, string and powder - Consider learning to use the weapons of Native Americans and frontiersman. This greatly expands hunting opportunities, and more chances generally translate into more game.
I've always been a big fan of hunting with a bow," said Turner. "I hunt with a gun, sometimes, but I like a bow because it makes me a better hunter. I also like it because archery season opens first, ahead of muzzle loader and gun seasons."
Consider the calendar - Hunt on weekdays and avoid holidays and opening day when possible.
Happy Hunting!