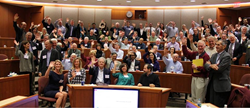 I am hard pressed to express our appreciation to CAP...they have been a great intellectual and experiential resource to us. Their investment of time and energy to understand our issues and potential has led to true impact. Gerry DeRoche, CEO of National Education for Assistance Dogs Services
(PRWEB) October 16, 2017
Harvard Business School Association of Boston's (HBSAB) Community Action Partners (CAP) program reaches a major milestone with its 25th year of pro bono services to nonprofits in the Boston area. HBSAB will recognize CAP's contribution to the nonprofit sector at its Inaugural Leadership Dinner on May 3, 2018 at the Harvard Club, Back Bay, Boston, MA.
Since its inception in 1993, over 1,000 Harvard Business School and Kennedy School alumni have volunteered their time and expertise on over 350 projects across all nonprofit sectors, including education, arts and culture, the environment, healthcare, and human services. Each year CAP volunteers provide an average of 8,000 hours of consulting, equivalent to approximately $1.5 to $2.0 million in pro bono services to worthy nonprofits. CAP projects result in incredible impact for nonprofit clients and are a uniquely rewarding volunteer experience for alumni.
Gerry DeRoche, CEO of National Education for Assistance Dogs Services, a repeat CAP client, says, "I am hard pressed to express our appreciation to CAP...they have been a great intellectual and experiential resource to us. Their investment of time and energy to understand our issues and potential has led to true impact. Further, they have come to embrace our mission and we are delighted to call them friends of NEADS. We congratulate them on 25 years of service - their impact on the Boston nonprofit sector cannot be overstated!"
This year, close to 100 Harvard Business School and Kennedy School alumni will work with 15 nonprofits on their most pressing business challenges. Selected from a pool of over 40 applicants, the 2017-18 CAP class of clients are: Boston Youth Sanctuary, Silver Lining Mentoring, Brazelton Touchpoints Center, Noonan Scholars, RESPOND, William James College, Earthwatch, NECEC, Budget Buddies, Project Citizenship, Indian Hill Music, Artists for Humanity, Boston Athenaeum, Plimoth Plantation and Room to Grow.
"It is remarkable to look back over the last quarter century and reflect on how the CAP program has boosted the impact of hundreds of nonprofits in the Greater Boston area. The mission of Harvard Business School is to educate leaders who make a difference in the world; we are proud to give alumni the opportunity to combine their skills and expertise with their passion for making a difference in the local community," states CAP Executive Director, Amelia Angella. "We look ahead to the next 25 years with a renewed sense of purpose to advance the important work of Boston's vibrant nonprofit sector to make our entire community stronger."
CAP recently expanded its nonprofit services to include CAP Brainstorms, a facilitated working session in which clients convene with a consulting team to problem solve around a clearly-defined challenge. Already a popular program with both nonprofits and alumni volunteers, CAP Brainstorms will serve at least 10 nonprofits this year.
For more information on Community Action Partners, contact: Amelia Angella, Executive Director at info(at)cap-hbsab(dot)org.
About Harvard Business School Association of Boston's Community Action Partners
A program of the Harvard Business School Association of Boston, Community Action Partners (CAP) marshals more than 100 alumni volunteers to serve nonprofits by providing pro bono consulting each year. CAP offers volunteer consulting assistance in such areas as: strategic and business planning, marketing strategy, financial planning and analysis, board development and governance and organizational development.