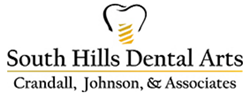 UPPER ST. CLAIR, Pa. (PRWEB) October 17, 2017
New patients with missing teeth can now receive full-arch All-on-4® dental implants from South Hills Dental Arts, with or without a referral. Drs. Steven Crandall, Karen Johnson and Kathy Lopez, experienced providers of dental implants in Upper St. Clair, PA, utilize the latest techniques and technology to ensure that patients have a comfortable dental implant placement experience and a reliable treatment outcome.
Patients with missing teeth have several treatment options available to them, including single dental implants and traditional dentures. However, Drs. Crandall, Johnson and Lopez recommend All-on-4 dental implants in Upper St. Clair, PA, for patients who want the affordability and convenience of dentures combined with the durability and natural appearance provided by implants. Implant supported prosthetics are ideal for replacing the entire upper or lower arch of teeth in minimal time. They are frequently preferred over traditional dentures because they are not removable and do not need to be taken out for cleaning purposes or reapplied with pastes that can be unreliable.
Advanced dental technology makes it possible to use only four dental implants to secure an All-on-4 dental appliance permanently and accurately in place. In many cases, bone grafting is not required to receive this treatment, even for patients who have been previously turned down for single implant placement due to insufficient bone mass. The implants in the All-on-4 system are strategically placed at a slight angle in the strongest areas of the bone to ensure long-term durability and functionality.
To assist the team at South Hills Dental Arts with accurate dental implant placement, cutting-edge technology is used prior to and during treatment. This technology includes the Galileos® Cone Beam CT imaging system, which delivers clear 3D images to help the doctors precisely place each implant of the All-on-4 system in the ideal position. Patients with missing teeth who wish to schedule an appointment for dental implants in Upper St. Clair, PA, are invited to call South Hills Dental Arts at 412-833-6166.
About the Practice
South Hills Dental Arts offers individualized dental care to patients in the Upper St. Clair, PA and Pittsburgh, PA areas. Dr. Steven Crandall, Dr. Karen Johnson and Dr. Kathy Lopez offer experienced dental implant, TMJ, and Invisalign® treatments along with a wide variety of other services at their two office locations. The entire team at South Hills Dental Arts, understand the importance of learning the most cutting-edge treatment techniques to ensure each patient receives effective and comfortable treatment. To learn more about Dr. Crandall, Dr. Johnson and Dr. Lopez or the services they offer, please visit their website at http://www.southhillsdentalarts.com. To schedule an appointment at his Upper St. Clair office call 412-833-6166 or 412-922-9292 for the Ingram Crafton office location in Pittsburgh, PA.